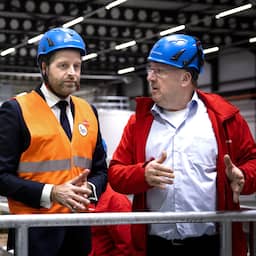 ---
May 22, 2023 at 4:31 PM
The conditions for housing are bad, writes Minister Hugo de Jonge (Public Housing) in a letter to the House of Representatives on Monday. Although more homes were added last year than De Jonge had expected, he foresees a "significant dip" in housing production in particular for 2024.
According to the coalition agreement, De Jonge must slowly build up to 100,000 new homes per year. Last year there were slightly more than 90,000, of which almost 75,000 new homes and about 15,000 existing buildings were converted into homes. That is more than the minister expected, because he assumed 80,000 new homes.
Yet that is not enough. The cabinet wants to have built more than 900,000 new homes before 2030, but the Economic Institute for Construction assumes a decrease in housing production of 3.5 percent this year and another 5.5 percent in 2024 compared to 2023.
De Jonge has been warning for some time about the problems that make it difficult to build more homes. For example, interest rates have risen and there are too few staff available. Materials have also become much more expensive due to inflation and, for example, the war in Ukraine. That is why housing is less and less attractive for investors, which will cause production to fall.
To "build through the dip", De Jonge is allocating about 500 million euros, he announced at the presentation of the Spring Memorandum. According to the minister, this can ensure that the construction of approximately 30,000 homes can still continue.
---
---