Do you have Flat out (2017–2020) ever seen? The homegrown drama series is coming to the general public. Netflix has managed to get the rights and will put the episodes online very soon.
Daddies and their problems
How can men combine their fatherhood with work, partners, friends and parents. We follow a group of men who share their struggles with each other at the sandbox on their dad day. Bouzian wants to know who his father is because of the new phase in his life, Louis has his hands full with his old mother and Ronnie finds it difficult to find a new job. Luckily they have each other.
The leading roles are played by Hassan Salah Slaby, Hajo Bruins, Ruben van der Meer, Guido Pollemans, David Lucieer and George Tobal. The series was broadcast on TV between 2017 and 2020 and can be viewed all that time via NPO Start. Anyone who missed the series will get another try on Netflix soon.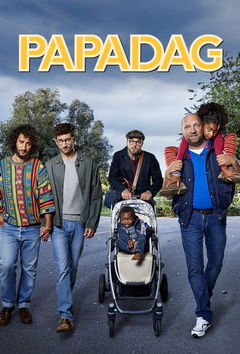 7.5 Watch on Netflix • A group of fathers meet every Thursday at the sandpit in the park. Despite their big differences, the dads develop a friendship and support each other in their busy modern lives.
Very soon on Netflix
Father's Day is starting 1 June to be seen on Netflix. Most likely, both season 1 and 2 will appear that day. For a complete overview of all new films and series that will soon appear on the streaming service, you can visit our Coming soon page on Netflix.
Image: Still 'Papadag' via TMDb
---