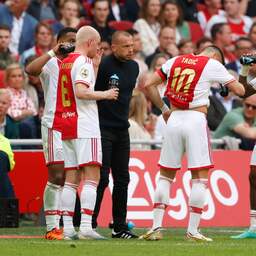 ---
May 21, 2023 at 5:46 PM
Although Ajax still has a chance at second place, trainer John Heitinga does not want to focus too much on the ranking in the run-up to the penultimate round of play. Ajax booked a difficult, but deserved victory over FC Utrecht (3-1) on Sunday.
Because PSV surprisingly drew 3-3 at sc Heerenveen in Eindhoven, Heitinga and his team can still hope for a place in the preliminary round of the Champions League.
If Ajax wins the away match against FC Twente next Sunday and PSV loses at AZ, the team from Amsterdam will finish second. "Only we have control over whether we win ourselves," Heitinga told ESPN. "That's what we need to focus on."
Ajax made 27 goal attempts against Utrecht, FC Utrecht made five. Yet the liberating (1-3) of substitute Davy Klaassen only fell deep into injury time. "We should have been sure of victory by then," said Heitinga. "We should have scored more often."
Ajax had a difficult time with FC Utrecht for quite some time. Steven Bergwijn gave the home team the lead halfway through the first half, but Anastasios Douvikas equalized shortly after the break. Thanks to goals from Brian Brobbey and ultimately Klaassen, Ajax still booked a convincing victory.
Heitinga, who succeeded the fired Alfred Schreuder halfway through this season, also said that he has no news yet about his future as head coach at Ajax. "We will play our last game next week. And the new season will start early," he said. "So it won't be long before there is clarity. But I will first concentrate on our last league game."
---
---