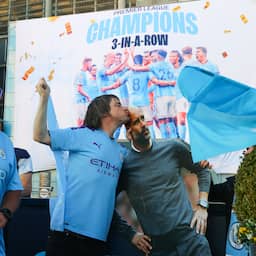 ---
May 21, 2023 at 09:30 Update: 4 minutes ago
The third consecutive national title leads to euphoria, but above all pride at Manchester City. The players of the brand new champion think they have been paid for their work in a changeable season.
"We have been very successful in recent years, but the bar was not high enough at the beginning of the season," says defender Kyle Walker on the club site. "We were not good. After the World Cup we wanted to prove the people who had already written us off wrong and we did that."
For a long time it looked like the sovereign Arsenal would become champions of England for the first time since 2004. The season lasted too long for 'The Gunners', who won only two of their last eight games. The 1-0 defeat at Nottingham Forest made the decision in the title fight on Saturday.
"Arsenal have been fantastic this season and pushed us to the limit," said Walker. "But we also put in an excellent series and took full advantage when Arsenal dropped stitches. With these players in the dressing room you always keep the belief that something is possible."
Unfortunately, this content cannot be displayed. We do not have permission for the necessary cookies. Accept the cookies to view this content.
Change cookie settings
Gundogan celebrates fifth title in the past six years
Some players, including Walker, are already celebrating a championship party with Manchester City for the third year in a row. For Ilkay Gündogan it is even his fifth title with 'The Citizens'. The captain was also part of the star ensemble of success coach Josep Guardiola in the 2017/2018 and 2018/2019 seasons.
"It is incredible to become champion five times in six years. The Premier League is without a doubt the most challenging competition in the world," says Gundogan, who played for Borussia Dortmund in the Bundesliga for many years.
"The quality of the Premier League says everything about our performance this season. This squad is so talented and special. It's a huge privilege to be captain of this side. This is a season I will never forget. "
Manchester City hopes to give the title party extra shine in the home game against Chelsea on Sunday. The season can also become even more beautiful. Guardiola's team will play the FA Cup final against Manchester United on June 3 and Internazionale will play in the final battle of the Champions League on June 10.
---
---