---
May 20, 2023 at 8:31 PM
Manchester City became champions of England on Saturday without playing. The team of manager Pep Guardiola saw competitor Arsenal lose 1-0 to Nottingham Forest, making the third league title in a row a fact.
Only if number two Arsenal lost at low-flyer Nottingham Forest, Manchester City would become champion on Saturday. Exactly that happened. Former NEC player Taiwo Awoniyi scored Nottingham's only goal in the nineteenth minute.
For Manchester City it is the ninth national title in total. 'The Citizens' crowned themselves national champions for the first time in 1937, followed by the second title in 1968. Only after the takeover by the Abu Dhabi United Group in 2008 was there success again. Since then, City have won seven of their fifteen league titles.
Just like last season, Manchester City fought a duel for the league title. This time it was not Liverpool, but Arsenal the main competitor. The club from London even outperformed City for a while. Going into the World Cup break, Arsenal were two points ahead.
After the break, Arsenal's lead even increased to five points. The team of manager Mikel Arteta even had that lead in April, but then things went wrong. Arsenal lost the direct confrontation with Manchester City 4-1 on April 26 and in the following weeks the first league title since 2004 disappeared completely from sight.
Unfortunately, this content cannot be displayed. We do not have permission for the necessary cookies. Accept the cookies to view this content.
Change cookie settings
Triple flashes for Manchester City
Erling Haaland is the main man behind Manchester City's league title. The top striker scored a whopping 36 goals in the Premier League in his first year in Manchester, breaking a new record. Until this season, the record was held by Andy Cole and Alan Shearer, who once both scored 34 goals in a season.
Kevin De Bruyne was also worth gold for Manchester City this season. He was the top scorer in the Premier League with 16 assists. For Guardiola it is his eleventh national title as a trainer, after previous championships with FC Barcelona (three), Bayern Munich (three) and therefore Manchester City (five).
Manchester City can even win the triple this season. The brand new champion of England is also in the final of the Champions League, in which Internazionale is the opponent on June 10. City have never won the 'big-eared cup'. The club also plays in the final of the FA Cup. A confrontation with arch-rival Manchester United awaits on June 3.
Traditionally, Manchester City will only be awarded the Premier League trophy after the last league game. The party will be no less big on Sunday, when the club plays Chelsea at home at 5 p.m. This is followed by a triumphal procession of two more league matches for Guardiola's successful team.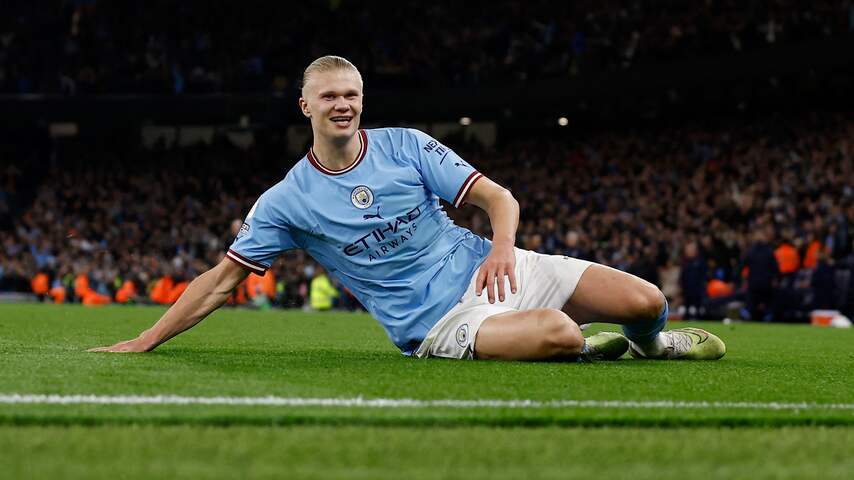 Erling Haaland was the big man at Manchester City with 36 league goals. Photo: AP
---
---