The brand new drama series Barracuda Queens (2023) comes from Swedish soil and is set in Stockholm in the 1990s. The series is inspired by true events and revolves around a criminal gang of rich girls. The series will be available on Netflix from next month and the trailer can be seen now.
From divas to thieves
Lollo, Klara, Frida and Mia are four privileged girls who call themselves the "Barracuda Queens" because of their days of partying at the Barracuda Beach. In a moment of desperation, when faced with a huge party bill, the girls come up with a reckless plan to rob their new neighbor Amina's house. Things don't go quite as planned, but luckily Amina would rather join the gang than press charges. Together, the girls become involved in an escalating campaign of home burglaries targeting their obnoxious wealthy neighbors. By day they are high-achieving students and daughters, but by night they are ruthless thieves – seeking thrills, liberation and revenge against men who have wronged them. And no one will ever suspect them… right?
From The Bridge writer
Barracuda Queens was written by Camilla Ahlgren, who previously worked on Quicksand (2019) in The Bridge (2011–2018). The lead roles are played by Alva Bratt, Tindra Monsen, Sandra Zubovic, Tea Stjärne and Sarah Gustafsson.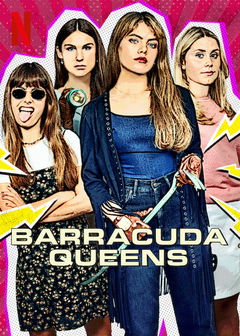 Watch on Netflix • The Barracuda Queens, a group of disgruntled rich girls, become involved in home burglaries at their wealthy neighbors.
The six episodes of Barracuda Queens are up 5 June to watch on Netflix.
Image: Still 'Barracuda Queens' via Ulrika Malm/Netflix
---