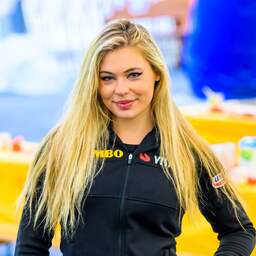 Skater Jutta Leerdam talks candidly about her eating problem in the YouTube program Open Card. "I wanted to eat perfectly healthy food and be as thin as possible."
The 24-year-old Leerdam confessed that she had been struggling with an eating problem for three years, because she 'went completely crazy' in wanting to eat healthy in order to be able to exercise at the top level.
"I had brainwashed myself so much. I only ate healthy and not very much," she says to YouTuber Robbert Rodenburg. "I became very thin and that was not good afterwards, because at a certain point I just had no strength left."
Eventually, this eating pattern took its toll during a training camp. Leerdam was completely burned out and could no longer train. She also suffered from hair loss due to her eating problems and did not have her period for four years.
"They say that's normal in sports, but that's really not normal," she says in the YouTube program. The skater now says she is happy with her body again and feels healthy.
However, Leerdam admits that she still has problems with her body image. "It's always in my head that I'm too fat. Everyone around me knows that too, because I talk about it all day long. That will always be a thing."
---
---