Doubly good news for fans of the popular Netflix series Virgin River (2019– ): The release date of the upcoming fifth season has been announced, and the series has been renewed for a sixth season! In this article you can read everything we know so far about the two new seasons of the Netflix drama series.
NB: This article contains spoilers about Virgin River Season 4!
How does season 4 end?
In the fourth season, the story revolved around three central questions: Who is Mel's baby's father? What about Doc's supposed grandson Denny? And who actually shot Jack? During the season, the questions were answered and we found out that Jack is the father of Mel's baby. Denny is exactly who he said he is, but turns out to be dealing with a terminal illness. We also eventually find out that Jack was knocked down by Vince, the ex-brother-in-law of Preacher's lover Paige, when he was looking for his brother and ended up kidnapping his own cousin, Christopher. Also, Brady is still involved in a huge drug ring. But, as we are used to by now, the series also raises a lot of unanswered questions, with the biggest question mark being the revelation of Jack's pregnant ex Charmaine that Jack is not the father of her twins after all.
What is season 5 about?
The storylines that are now open include: what will happen to Vince, Paige, Christopher and Preacher? What is Denny's prognosis? What trouble did Brady get into this time? And who exactly is the father of Charmaine's babies? During a set visit from Tudum to the set last year, writer Richard Keith made a statement about the upcoming season:
There are some new characters coming to Virgin River this season that will mix things up a bit.

Richard Keith
During the same set visit, writer and executive producer Erin Cardillo revealed that we can expect to get "a lot of answers to the questions you've been waiting for." Hope's recovery, Doc's diagnosis, the Paige situation, Brie and Brady's relationship – they will all be covered.
When are seasons 5 and 6 coming out?
The fifth season of Virgin River is on 7 september to be seen on Netflix. Unfortunately, it is not yet known when the filming of season 6 will take place and when it will appear on Netflix.
Season 5 change
Sue Tenny is no longer the production lead on the series, and has been replaced by Patrick Sean Smith. When Season 5 began filming, Smith told Tudum that he "couldn't be more proud to join the Virgin River family. Together with the stellar cast and amazing crew, we have great things in store for our fans worldwide."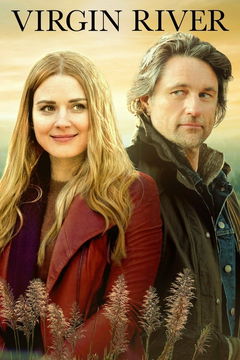 7.4 Watch on Netflix • An urban nurse moves to a remote area of ​​California and discovers that life in a village isn't as easy as she expected…
Beeld: Still 'Virgin River' via Netflix
---