---
May 14, 2023 at 7:09 PMUpdate: 7 minutes ago
Quilindschy Hartman was in tears on Sunday after winning the national title with Feyenoord. The 21-year-old left back sat in the stands of De Kuip six years ago at the previous championship and thought it was very special that he could now celebrate on the field.
"Look around you. This is not normal, is it?" Hartman said shortly after the championship match against Go Ahead Eagles (3-0 win) in front of the camera of ESPN. "I've been emotional all day."
The defender from Zwijndrecht went through Feyenoord's youth academy and surprisingly secured a starting spot in the first team this season. "I used to always sit up there in the stands, in Section V. All the boys from the youth were there. Every Sunday we went by train to De Kuip to watch. I have experienced one championship that way, in 2017. And now I'm just standing here as a champion myself. Unbelievable."
With Justin Bijlow, Lutsharel Geertruida and Orkun Kökçü, there were three more basic players against Go Ahead who come from Feyenoord's own youth. "It says something that we have become champions with so many youth players in the first," goalkeeper Bijlow told ESPN .
Hartman hopes that he can be an example for young players who also want to make it to Feyenoord's main squad. "If you give a lot and do a lot for it, you will get opportunities. And if you take them, you will never go out again. I have proven that this season."
Feyenoord celebrated the sixteenth national title in club history on Sunday. The goals in the championship game came from Oussama Idrissi, Santiago Giménez and Igor Paixão.
Receive notifications of important developments around FeyenoordStay informed with notifications
Director Te Kloese: 'It has become such a great team'
General manager Dennis te Kloese called the championship a success for the entire club. "This is more than special. We have to give so much credit to the people around the team and at the club. Because of them it was possible to achieve such an achievement," said Te Kloese, who has been in Rotterdam since the beginning of last year. works.
Feyenoord reached the final of the Conference League last season. A large part of the team left after that. Trainer Arne Slot received a lot of new players in return last summer and soon managed to forge a successful team again.
"Unbelievable. If you see where we were more than a year ago and where we are now … That is difficult to realize," said Te Kloese. "Only a few players are left of the team that played the Conference League final. The newcomers have adapted so quickly. It has become such a great team."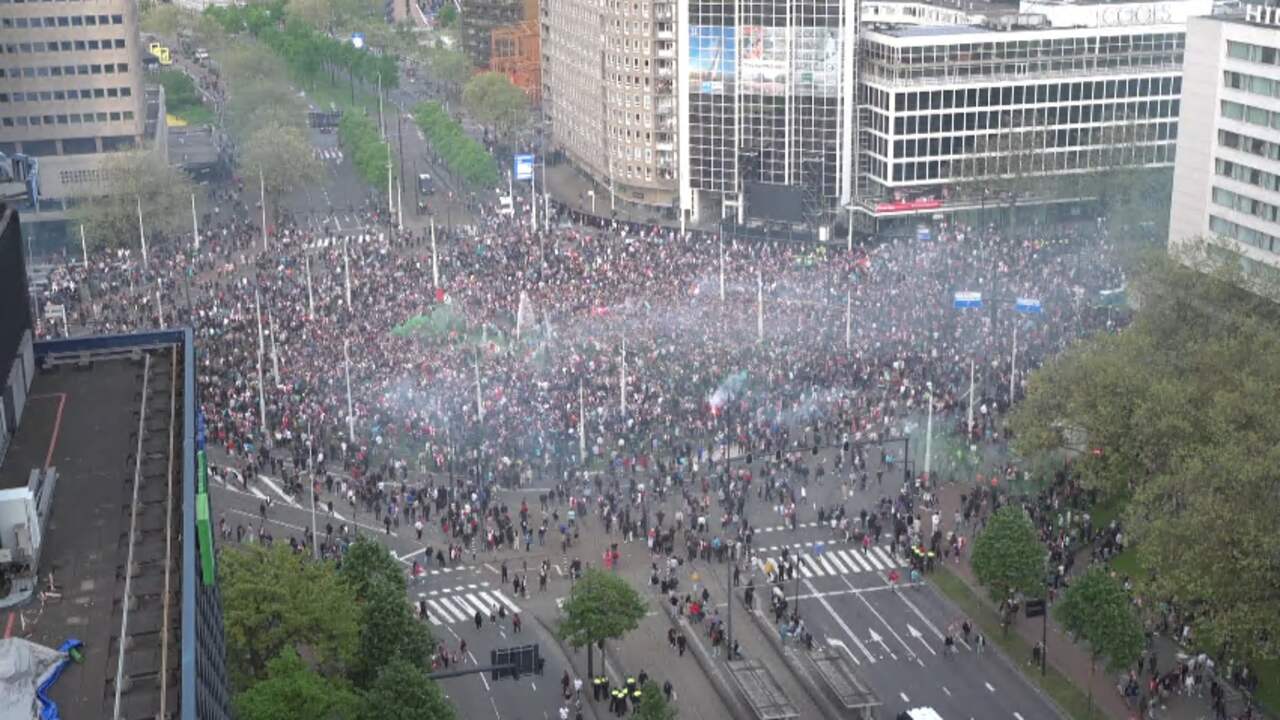 Play button
Read all the stories about Feyenoord's title
---
---