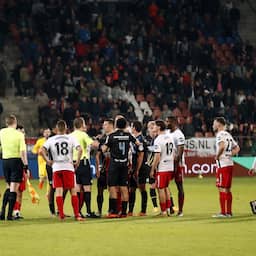 ---
May 13, 2023 at 11:43 PMUpdate: 5 minutes ago
The players of FC Utrecht and RKC Waalwijk issued a special statement on Saturday evening. After the game was stopped for the second time because a cup was thrown on the field, both teams decided not to continue playing.
When celebrating Zakaria Labyad's 2-0, a cup came on the field for the second time in the game and everything pointed to referee Ingmar Oostrom going to stop the game definitively.
After consultation with the KNVB and the local authorities, it was still decided to play the game, but both teams had agreed not to play football anymore. After the kick-off, the ball went directly to RKC keeper Etienne Vaessen, who demonstratively held the ball under his foot for over a minute.
"We wanted to make a statement as football players," RKC captain Michiel Kramer told ESPN afterwards. "What is happening here is not in proportion to the nineteen thousand supporters who do behave properly. Football is destroyed like this."
Viergever: 'A few who ruin it for the rest'
FC Utrecht captain Nick Viergever agreed with Kramer's words. "Football is a fun outing, you have to enjoy going to the stadium and cheering on us. This behavior is not part of that. There are a few who ruin it for the rest."
Viergever was happy with the agreement that both teams had made in the tumultuous final phase. "Fortunately we solved it this way. Otherwise RKC might have to come back for two minutes later. We thought this was an important statement to make."
Viergever and Kramer appeared together in front of the camera and, despite the chaotic ending, were still up for a joke. "I'm not getting any smoother either," said 34-year-old Kramer. "If you always have to go in and then go back on the field. That can't be the intention. It doesn't make me happy."
Unfortunately, this content cannot be displayed. We do not have permission for the necessary cookies. Accept the cookies to view this content.
Change cookie settings
---
---