Partly due to a visit to Daniel Ricciardo's AlphaTauri factory and alleged statements by Helmut Marko, there are many rumors about Nyck de Vries' future in Formula 1. An analysis of these stories and the performance of the second Dutchman in the royal class.
It is perfectly logical that De Vries is under pressure to perform. That he also has trouble performing stable. Formula 1 is not easy, not even for a driver with a relatively large amount of experience.
When De Vries joined AlphaTauri, the impression arose that the Dutchman would immediately become the leader and could take the erratic Yuki Tsunoda by the hand. That was then based on De Vries' experiences as a reserve at Mercedes and outside Formula 1, as a Formula E champion and Formula 2 champion. Team boss Frans Tost expected that De Vries "wouldn't have to get used to being there immediately".
Whether it was also realistic that he would be faster than Tsunoda with his two years of experience in Formula 1, remained undiscussed. While the Japanese regularly shows that he has a lot of raw speed and has now started 48 times in the royal class.
All drivers make mistakes, not just rookies
Tsunoda made the necessary mistakes in his first two years, as De Vries does now and almost all rookies do. Mistakes like De Vries made in Baku and at the start in Miami are made by all drivers.
We take a closer look at a few situations: De Vries crashed in qualifying in Baku. The same happened to the experienced Pierre Gasly that weekend. Fellow rookie Logan Sargeant did it, and experience expert Charles Leclerc did it too. Crashes were common on the street circuit in previous years as well.
In the race, De Vries broke his front suspension on a wall on the inside of the corner. A small mistake with big consequences. That also happens more often. Lando Norris did it in Saudi Arabia this year, while Max Verstappen, among others, happened twice in Monaco.
And then the incident at the start in Miami. De Vries was not unpunished when he got behind Norris, but it is a situation more common with starts due to blocked tires. De Vries was still a victim of it in Melbourne at the hands of Sargeant. And it could be worse: Nico Hülkenberg rammed Fernando Alonso in 2019 at Spa, for example, full from behind over Leclerc's Alfa Romeo. That can happen, especially with rookies.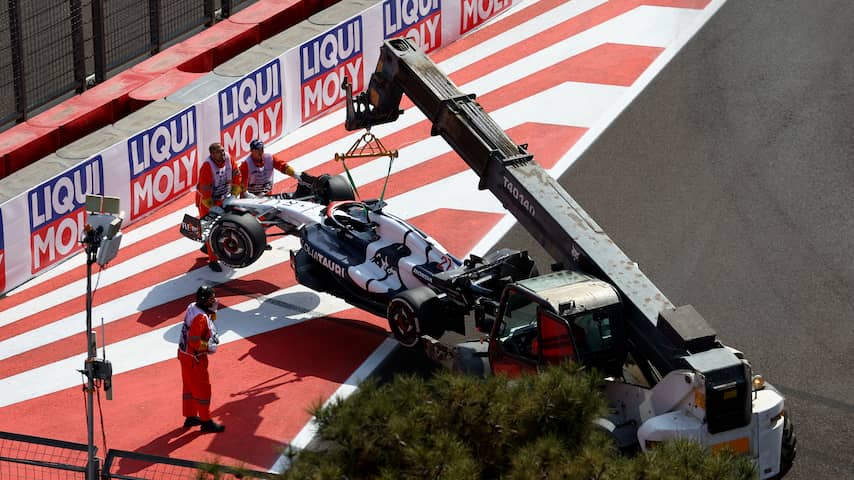 Nyck de Vries' car is towed away in Baku. Photo: Getty Images
Enough extenuating circumstances in the races
Crashes are overlooked if the speed is right. De Vries still lacks too much of that. Still, it's good to take a closer look at his race weekends, as there are certainly extenuating circumstances.
Bahrain: Great first outing, strategic mistake team
In his first qualification at AlphaTauri, De Vries sets the nineteenth and de facto slowest time at seven tenths of his more experienced teammate Tsunoda. In the race he competes well in the battle in the midfield. The team makes a strategic mistake by not letting him stop during a safety car situation, while Tsunoda does. De Vries therefore loses places and finishes fourteenth.
Saudi Arabia: Not impressive, certainly not bad
De Vries misses the third practice session on the circuit unknown to him, in which the qualifying simulations are driven. Qualifying then goes messy with a spin. The Dutchman drives the nineteenth time, this time three tenths of Tsunoda. In a calm race, De Vries drives to fourteenth place, ten seconds behind his Japanese teammate. It is eleventh with the same strategy.
Australia: Great pace, especially a lot of bad luck
On another unknown circuit, De Vries misses training time again due to problems. In qualifying he is fifteenth, 2.5 tenths behind Tsunoda. On Sunday, De Vries has bad luck due to the red flag after eight laps, which thwarts his strategy with a start on the hard tyres. A minor collision with Esteban Ocon does not help De Vries afterwards. On the final restart, he is run off the track by Sargeant through no fault of his own.
Azerbaijan: Worst weekend so far
A crash in the first qualifying session ruins a good free practice session for De Vries. In the second qualifying an own mistake and then a red flag by the crashing Sargeant neck him. In the sprint race, De Vries then does well, but in the feature race on Sunday, the Dutchman apparently innocently hits the wall, which leads to a retirement.
Miami: Good qualifying, mediocre race
De Vries has an excellent qualification by being faster than Tsunoda for the first time. That results in fifteenth starting place. In the race, Norris goes wrong at the start, losing many places himself. What also doesn't help is that the Dutchman, unlike teammate Tsunoda, did not start on the hard tyres. De Vries then drives a colorless race and finishes eighteenth.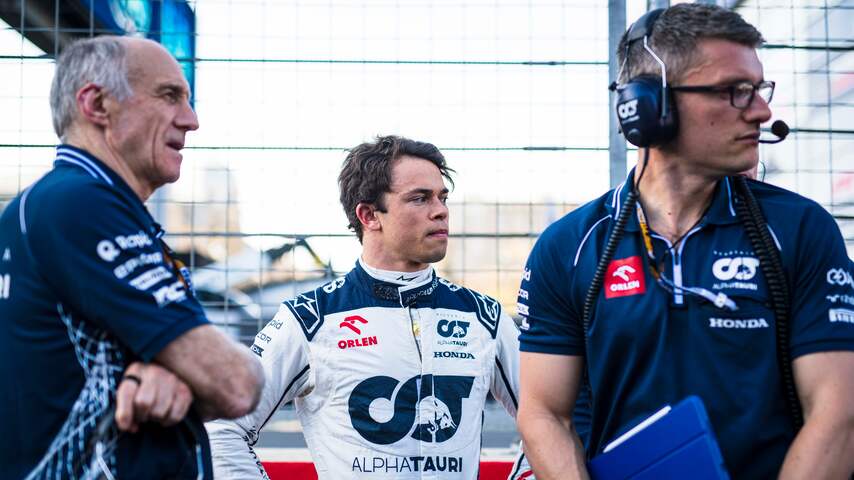 Nyck de Vries in conversation with team boss Franz Tost. Photo: Getty Images
Making an impression pays off in the end
The conclusion is that De Vries sometimes still struggles to put together a good lap in qualifying (like most rookies), logically falls short of his more experienced teammate Tsunoda on pure race speed, makes mistakes (like most rookies) and it really only went wrong in Baku completely because of his own doing.
Remarkably, just after that race, team boss Tost rightly remarked that "Sebastian Vettel very often came into the pits without a nose in his first races". And he eventually became a four-time world champion. De Vries' speed left something to be desired in qualifying, but in the only flawless race, in Jeddah, it was fine. It should also be mentioned that the AlphaTauri is simply one of the slowest cars in the field.
But in Formula 1, the chance that everything will always be judged fairly is small. It remains an opportunistic world that revolves around perception, where making an impression is rewarded. De Vries simply did not do that enough.
Alleged Marko statement soon turns into 'ultimatum'
On Thursday, the rumors gained momentum due to reports of a visit by Red Bull reserve Ricciardo to the AlphaTauri factory. He was there in the role of Red Bull reserve, so fitting a seat had nothing to do with De Vries' position, according to his team. And an alleged statement by Marko wanting to see improvement was adopted by dozens of sites and quickly turned into "an ultimatum".
Regardless of whether Marko actually made that statement, it is completely logical that the Austrian wants to see improvement. De Vries undoubtedly wants that too. But with his experience, Marko cannot really have expected that the Frisian driver would take the team by the hand and immediately be faster than Tsunoda.
Yet there is only one solution: De Vries can quickly rid himself of these stories if he manages to impress in the known Imola, Monaco and Barcelona.
---
---