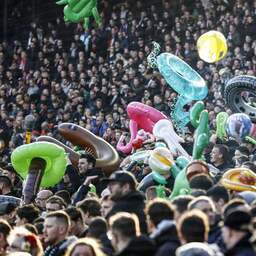 ---
May 12, 2023 at 6:30 PMUpdate: 23 minutes ago
Feyenoord has to pay UEFA fines totaling almost 40,000 euros for violations during the home game with AS Roma in the quarter-finals of the Europa League. In that match last month, the Rotterdam club stood out in a positive way with countless inflatable objects in the stands.
A UEFA report published this week states that Feyenoord is being punished for three offences. The club has to pay 30,000 euros because supporters blocked stairs in the stands. In addition, the European Football Association collects 5,500 euros for setting off fireworks and 4,125 euros for throwing objects.
It is unclear what is meant by "objects". The fans of Feyenoord wanted to set a good example against AS Roma. For example, in the twelfth minute of the game they all showed inflatable objects, such as beach balls, swimming rings and crocodiles.
That was a playful action after the lighter incident of a week earlier. The squatter against Ajax in the semi-finals of the TOTO KNVB Cup was temporarily stopped because Davy Klaassen got a lighter thrown on his head from the audience. The Ajax midfielder was bleeding and had to be replaced after the game had resumed.
Unfortunately, this content cannot be displayed. We do not have permission for the necessary cookies. Accept the cookies to view this content.
Change cookie settings
Feyenoord already had to draw a bag last season
In the run-up to the home game against AS Roma, trainer Arne Slot had already called on the supporters to behave in De Kuip, where nets are hanging to prevent objects from ending up on the field.
Feyenoord regularly receives fines from UEFA. Last season, the Rotterdam club had to transfer a total amount of approximately 650,000 euros to the football association. That was a record for the club. This season Feyenoord was not allowed to take supporters to the away match against Shakhtar Donetsk in the eighth finals of the Europa League.
Feyenoord won the home game against AS Roma 1-0. A week later, Slot's team went down against José Mourinho's formation after extra time, so that the Romans joined the last four in the Europa League.
---
---