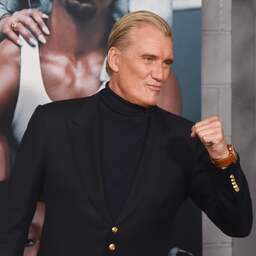 By our entertainment editors
---
May 11, 2023 at 7:48 AM
Dolph Lundgren (65), known from Aquaman and The Expendables, among others, has been ill for a long time. The Swedish actor was diagnosed with cancer in 2015. He has always kept his illness under wraps until now, despite appearing in several well-known films during this time.
Lundgren was diagnosed with the disease in 2015. A malignant tumor was found in his kidneys. When this was removed, things seemed to be moving in the right direction again.
Five years later, the actor suffered from physical complaints. After an MRI scan, he was found to have multiple tumors in his body again. During this time, the Swede filmed the sequels to Aquaman and The Expendables.
"The doctor said, 'It's better to rest now and spend time with your family.' So I asked him how long I had left to live. Two to three years, was his answer," Lundgren says in conversation with Graham Basinger.
After a second opinion, the doctor found that the cancer cells mutated like lung cancer. The doctor therefore proposed a treatment that is also carried out in people with lung cancer. This proved effective, says Lundgren.
"If I had chosen a different treatment, I probably wouldn't be here now." His tumors almost disappeared because of this. "Actually, there is now only scar tissue left. If this is removed, I will be cancer-free. So the prognosis is good."
The actor, mainly seen in action films, made his Hollywood breakthrough in 1985 with his role in Rocky IV. He then played roles in A View to a Kill and Masters of the Universe, among others.
---
---