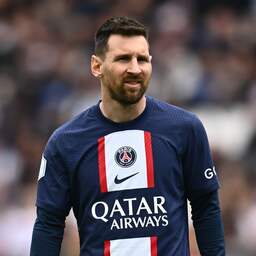 ---
May 09, 2023 at 4:25 pm
Jorge Messi denied on Tuesday that his son Lionel is going to Saudi Arabia. Earlier in the day, AFP, among others, wrote that the Argentine superstar had signed an agreement with an unknown club from the country.
"There is absolutely no agreement," writes Jorge Messi on Instagram. "We don't make a decision until after the season. Many people use Lionel's name to get known, but there is only one truth. There is no agreement. This looks like a lack of respect."
"There are people who deliberately and deliberately cheat without any evidence for their statements," said Messi senior. "Those people want to turn every malicious rumor into news and only think of self-interest."
The 35-year-old Messi has an expiring contract with Paris Saint-Germain and could leave Paris on a free transfer after this season. A departure seems real. Messi was suspended for two weeks last week because he was in Saudi Arabia for a day, while PSG had organized a penalty training session.
In recent weeks, Messi has been regularly booed by PSG supporters due to the disappointing results. The seven-time winner of the Ballon d'Or was allowed to report to the training field again on Monday, but it seems to be becoming increasingly clear that the future of the superstar does not lie in Paris.
According to various media, his old club FC Barcelona and the American Inter Miami of club owner David Beckham are also in the race for Messi. According to AFP, the attacker could earn between 300 and 400 million euros at Al Hilal. Messi has been tourism ambassador for Saudi Arabia since last year, which wants to organize the 2030 World Cup with Egypt and Greece.
---
---