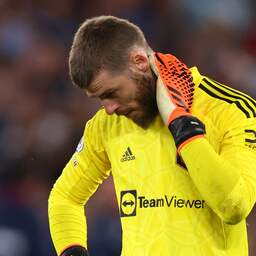 ---
May 08, 2023 at 07:08 Update: 6 minutes ago
Erik ten Hag encouraged goalkeeper David de Gea on Sunday evening. The Spaniard was responsible for Manchester United's costly 1-0 defeat in the away match against West Ham United with a blunder. As a result, a Champions League ticket is by no means certain.
De Gea made a mistake after half an hour by letting a weak and low shot from Said Benrahma pass under him. After that remarkable opening goal, United were no longer able to turn the game around. Nevertheless, Ten Hag refused to lose De Gea.
"David has the most clean sheets in the Premier League. Without him we would never have been so high in the rankings. He has my complete confidence. I don't see any reason for concern," Ten Hag said at his press conference at the London Stadium .
However, it is not the first time this season that De Gea has scored a goal through a blunder. Barely three weeks ago, the Spaniard made a painful judgment error for Sevilla's third goal in the quarter-finals of the Europa League. In the FA Cup game won with Everton at the beginning of this year, De Gea let a simple ball slip past his legs at the post.
Unfortunately, this content cannot be displayed. We do not have permission for the necessary cookies. Accept the cookies to view this content.
Change cookie settings
"As a team you have to be able to deal with such a mistake"
His blunders have left English media speculating about De Gea's future at United. The 45-time international has an expiring contract, although the club has the option to keep him for a year longer. In addition, talks about a new contract are said to be in the final stages.
De Gea has been playing for United since the summer of 2011. As far as Ten Hag is concerned, there is no need to discuss the goalkeeper position at all. "These things happen. As a team you have to deal with it. The players have to show character and resilience and fight back in the game that way."
Due to the narrow defeat at West Ham, AZ's opponent in the semi-finals of the Conference League on Thursday, it is questionable whether United will be able to hold on to fourth place in the Premier League. The difference with number five Liverpool is only one point, although 'The Red Devils' have played a game less. Only the top four clubs go to the Champions League.
"It's not about Liverpool," said Ten Hag. "Look at the rankings, we have everything in our own hands. If we reach our level, we will win the remaining games. So we don't have to look at other clubs at all."
Battle for CL tickets
3. Newcastle United 34-65 (+32)
4. Manchester United 34-63 (+8)
5. Liverpool 35-62 (+25)
6. Tottenham Hotspur 35-57 +7)
---
---