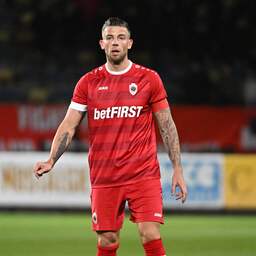 ---
May 08, 2023 at 08:31 Update: 10 minutes ago
Toby Alderweireld has shared hate messages he received on social media on Sunday night. In it, the Belgian defender of Antwerp is not only abused, but his family is also threatened.
"There are limits to everything. I can tolerate quite a bit, but threatening my family goes far beyond the limit," Alderweireld writes on Instagram with a screenshot of the messages he received from an anonymous account.
Those messages state, among other things, that Alderweireld's daughter will be missing this week and a death wish is expressed on his family. In addition, the former Ajax player is scolded for his game at the World Cup in Qatar.
It is not clear whether Alderweireld will press charges. "I don't understand why you are writing this and what you want to achieve with this," concludes the 34-year-old defender.
'Such reactions are not appropriate'
The threats to Alderweireld followed Antwerp's 2-1 win over KRC Genk in the play-offs for the title. Because of the victory, the team of trainer Mark van Bommel is fully participating in the battle for the championship.
Genk records in a short statement Twitter away from the threats. "Football lives on emotions. But such reactions are not appropriate. Our only focus in the coming weeks will be on the title fight, which will be settled in a sporting way."
Alderweireld is in his first season at Antwerp. The 127-time international, who put an end to his international career two months ago, previously played for Ajax, Atlético Madrid, Southampton, Tottenham Hotspur and the Qatari club Al Duhail.
---
---