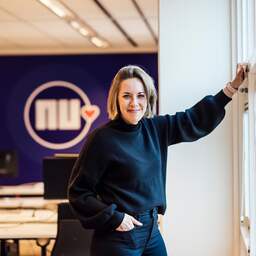 ---
May 07, 2023 at 09:09 Update: 16 minutes ago
Once a month we answer your most important questions. This time, deputy editor-in-chief Lindsay Mossink talks about our core values, cryptic headlines and the balance between news value and attracting visitors.
How is what is 'news' determined? And is NU.nl independent? What are the values ​​and norms of NU.nl, which help determine what are newsworthy events?
Our core values ​​are printed on the wall of our editorial floor in large letters: factual, open, clear and fast. We place our work against that bar. That means that we always base ourselves on facts. That we are open to our visitors, but also open about our news choices. And that we bring the news clearly and quickly.
We also have an editorial charter. We have made agreements in this regard. For example, about the strict separation between editing and commerce.
But also that we always work objectively and independently. Our journalists cover the news without a political or philosophical view.
Then the news itself. That is above all current. And often news differs. Or does it affect a large group of people.
Location can play a role. Domestic news can be more relevant to us than something that takes place very far away. Unless the impact is major, as we are now seeing in Sudan, or (and that is of course a logical example) in Ukraine.
Lindsay Mossink is deputy editor-in-chief of NU.nl
Lindsay regularly writes an editorial blog, which gives you a look behind the scenes.
NU.nl is a pleasant news website that tries to adopt a neutral position. Still, there are subjects that bother me. Like a lot of Hazes drama. Or exaggeratedly positive news about asylum seekers, while Dutch residents with real complaints about this are never heard.
To what extent is NU.nl concerned with striving to become a neutral news website, and not a gossip magazine or propaganda website with only one opinion?
We are a neutral news site, without a political direction and with the widest possible view of the world, so that we can be there for everyone.
Variety in subjects is important to us. Two weeks ago I wrote about the negative impact news can have on your mood. It may be a reason for people to avoid news more often. We can prevent this by providing light-hearted stories in addition to the serious news. Think remarkable or science.
Or by doing our best for stories that give a glimmer of hope in a long-drawn-out negative news file. As we indeed did this week with regard to asylum seekers. We wrote about the activities that are organized for children in emergency shelters. But that does not mean that we bury our heads in the sand for the problems that exist.
And you can read about the Hazes family with us. Or about Gordon, which one of you also had a similar question about. In this way we appeal to a wide audience. We also see that you love to read about celebrity life.
I understand that. It is often a welcome change from the two shootings in Serbia this week, the complexity in the Taghi case or the incomplete Transavia fleet.
How do you balance itng between news value and generating traffic to the site?
Generating a lot of traffic is not leading for us. Just as we are against clickbait on our site. But we can learn a lot from your behavior. So we're looking at that.
This way we can see real-time throughout the day what you click on a lot. From this you can determine whether a subject is alive. That may be a reason to make a follow-up.
But sometimes we find a topic very important (because it is relevant to the choices you make in life, for example), while you hardly read it. Then we do our best to make the head and the piece better.
Every day we look for a good balance between what you (in our opinion) should know and what you would like to know.
You often report short news facts, with very factual headlines. In recent times, many in-depth stories have been added. In those background stories, the title is often somewhat cryptic or more eloquent. Like this week above the article about Albert Heijn: Op = op takes on new meaning at Albert Heijn. That could also have been: Large supply shortages plague Albert Heijn.
How do you decide whether something is a short news item or an in-depth article?
A cup may stimulate a bit. Or as editorial director Thomas Moerman often says: "Make sure that the work enjoyment splashes off, the readers will understand that". The article you mention is a good example of this.
Economics editor Eva Schouten came up with 'op = op' in this headline after she herself had made a round in an Albert Heijn. Ironically, above the empty shelves she saw the signs that said on = gone. Such a wink in a headline makes NU.nl more fun.
But of course we shouldn't overdo it. We don't do that with first-line news (as we call it in journalism). When Ukrainian President Volodymyr Zelensky is on his way to the Netherlands, we must be clear and direct.
If we then want to interpret such news with an in-depth story – as we are indeed increasingly doing – we play more with the headline. That often makes such an extra story in the news more attractive to read.
Do you have any idea why NU.nl is one of the most visited news sites in our country? In other words: what makes NU.nl so special?
This is of course a nice question for us.
We exist 25 years next year. That's quite a long time for a digital brand. In 1999 we were the first news party in the Netherlands to focus entirely on online news.
A year later we became known to the general public. That had a tragic reason. On Saturday afternoon, May 13, 2000, you read on NU.nl about the fireworks disaster in Enschede. We were the first to read the news because the newspapers did not appear on Sundays and did not yet have an active website.
Speed ​​became one of NU.nl's strengths and is still in our core values ​​25 years later.
Get notified when we post this column. Stay informed with notifications
Is there something you would like more explanation about? You can email me at lindsay@nu.nl. Maybe we'll cover it in this place soon.
---
---