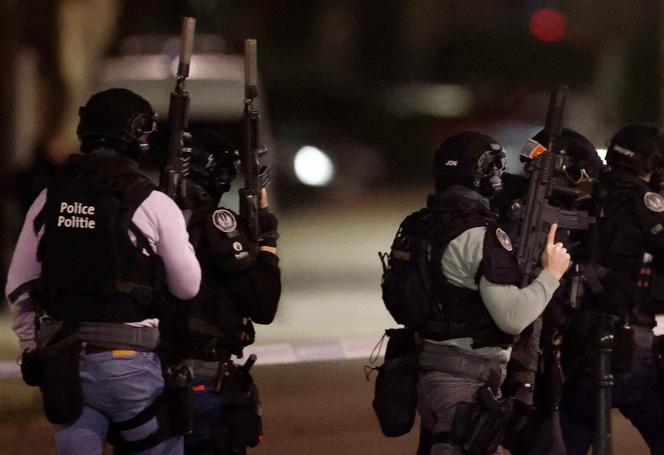 Belgian police special forces arrive in the European district of Brussels, February 6, 2023. KENZO TRIBOUILLARD / AFP
Third anti-terrorist crackdown in a few weeks, after an operation already carried out at the end of March against two cells suspected of preparing attacks in Belgium: the Belgian federal prosecutor's office announced, Thursday, May 4, the arrest of seven people, members of "a group of fervent supporters of the Islamic State", suspected of wanting to attack an institution located in the country, where the level of the terrorist threat has not been revised upwards, even if the situation raises concerns.
The East Flanders federal police, which carried out nine searches in several towns in the region, notably in Roeselare and Menin, near the French border, decided to act even before the suspects had precisely determined their target. Or when they were actively looking for automatic weapons of the Kalashnikov type. Several scenarios had been mentioned in the intercepted exchanges, including the NATO headquarters in Brussels, but this track was quickly dismissed.
The investigating judge will have to decide whether or not to issue warrants against the seven individuals. The potential charges, mentioned by the prosecution, are heavy and include "attempted terrorist assassination" and "participation in the activities of a terrorist group". Young people, in their twenties, "almost all" are of Chechen origin and three of them have Belgian nationality. "We are not within the framework of a structured terrorist organization", specifies a spokesperson for the federal prosecution, referring to isolated cases, which have "a rage or personal scores to settle vis-à-vis society. ".
Questions about the security risk in the country
However, this action comes on top of the arrest, at the end of March, in two potentially linked cases, of eight people suspected of planning attacks, one of which allegedly targeted Bart De Wever, mayor of the city of Antwerp and president of the Neo-Flemish Alliance (N-VA), the region's leading party. The arrest warrant has been confirmed for four of these individuals. The lawyer for one of the suspects assures that his client would have been influenced by "Salafists and jihadists on the Internet".
These successive events have therefore raised questions about the security risk in the country. The coordination body for risk analysis recently maintained the terrorist threat level at 2 (medium). "It was the same level in the 2000s. However, the jihadist scene in Belgium is more important today. So we are actually at a 2++ level," says Thomas Renard, director of the International center for counter terrorism (ICCT), based in The Hague. In the Netherlands, the intelligence service has also observed, in a report published in April, an increase in the threat of jihadist attacks in Europe.
You have 41.79% of this article left to read. The following is for subscribers only.
---
---