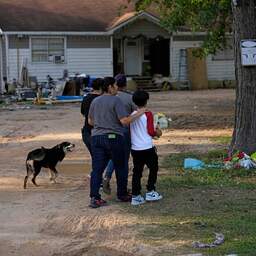 A man suspected of shooting five neighbors dead was arrested in the US state of Texas on the night from Tuesday to Wednesday. That happened after a days-long manhunt.
On Friday evening, the 38-year-old man practiced with his semi-automatic rifle in his garden. His neighbors asked him to stop because the family's baby couldn't sleep. The man replied that no one can tell him what he is doing in his own yard.
Moments later, he entered his neighbour's house and shot and killed five residents, including an eight-year-old child. Then the man fled. More than 200 officers have been searching for the suspect since Saturday.
In the night from Tuesday to Wednesday, the police were able to arrest the man. He is in prison and is suspected of murder.
The suspect is a Mexican who is illegally residing in the United States. In 2009 he was deported for the first time. That happened three more times, but the man always returned to the US, reports ABC News.
---
---