By Jeroen van Barneveld
---
May 01, 2023 at 5:06 AM
John Heitinga no longer feels like questions about his future as coach of Ajax. With the lost cup final, the record champion's disaster season is complete, but there is still no clarity about the trainer's position for next season.
Whether Heitinga feels that his days as coach of Ajax are numbered is the question from the audience. With a shocked face and arms folded over each other, Ajax's trainer gives a measured answer. It is 45 minutes after Ajax lost the cup final to PSV in De Kuip via penalties.
"I don't know. There is a lot of hard work going on behind the scenes. I will hear it myself," he says. "Edwin (managing director Edwin van der Sar) and Sven (the new director of football affairs Sven Mislintat) are constantly busy. I assume that the right choices are being made. We are having discussions. If there is any information, I will share it with you . I'm also a bit done with this question."
Receive notifications of important developments around AjaxStay informed with notifications
After the dismissal of Alfred Schreuder, Ajax promoted Heitinga from trainer of Jong Ajax to head coach. More than four months later, there is still no clarity about the future of the club icon.
Mislintat said three weeks ago when he arrived that Heitinga is in pole position to be Ajax's trainer next season. "He has a great character and is a former Ajax player," he said. "I think we have a good manager at the moment. We don't talk to anyone else."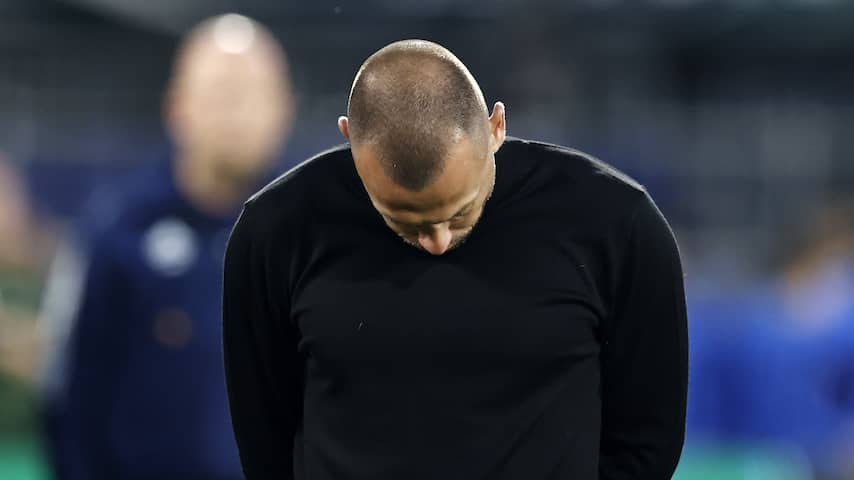 An upset John Heitinga bows his head after the lost cup final. Photo: ANP
"Uncertainty is bad for John"
For the time being, Mislintat's firm words have not been translated into action. It all fits into the chaotic image of Ajax today. Youth trainer and former international Gerald Vanenburg stopped on Tuesday out of dissatisfaction with the course within the youth academy.
Shortly before that, head of youth academy Saïd Ouaali and head scout Henk Veldmate (to FC Groningen) had also left. The beloved former assistant Winston Bogarde even added fuel to the fire by telling Ziggo Sport that he will not return to Ajax as long as Van der Sar is general manager. Van der Sar is held responsible by many fans for the current crisis.
Davy Klaassen thinks all the troubles are a bad thing for Ajax. "There is a lot of uncertainty within the club and that is never good, not even for John. I trust that we are working hard on it so that we can help Ajax up again."
The defeats against PSV, as a result of which Ajax lost second place in the Eredivisie and the cup final in a week, do not speak in favor of Heitinga. The trainer dangles visibly. Heitinga himself does not feel that the duels with PSV felt like an exam.
"I have been asked to help. I work very hard every day to motivate the boys and to prepare them for the next match. The most important thing is Ajax and for that you have to subordinate yourself. The choices will have to be made. I will do my stinking best day."
---
---