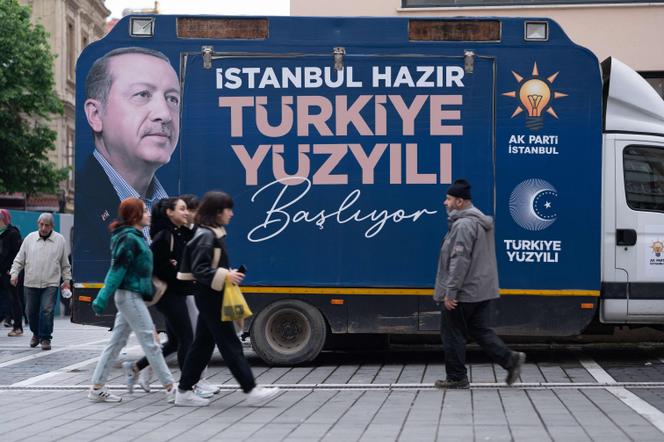 A truck in the colors of Recep Tayyip Erdogan's election campaign, in Istanbul, April 20, 2023. EYLUL YASAR / AFP
Turkish President Recep Tayyip Erdogan, given suffering since Tuesday evening, physically reappeared in public for the first time, Saturday April 29 in Istanbul, on images broadcast by television channels. The 69-year-old head of state, affected by an intestinal virus, according to those around him, spoke for four days only by videoconference, raising questions about his state of health two weeks before the presidential election in May 14.
Mr. Erdogan began a visit to the Teknofest air show at Istanbul's former Atatürk airport, a show that Turkey presents as "the largest in the world" and which allows the Turkish military industry to exhibit its drones and his planes. The head of state must then participate in the day at an electoral meeting in Izmir, on the west coast, according to his official program.
He is also expected in Ankara, the capital, on Sunday, exactly two weeks before the first round of voting, to resume the course of his electoral campaign after a four-day break this week.
Add to your selections Add to your selections
The contribution area is reserved for subscribers.
Subscribe to access this discussion space and contribute to the discussion.
Subscribe
Contribute
---
---