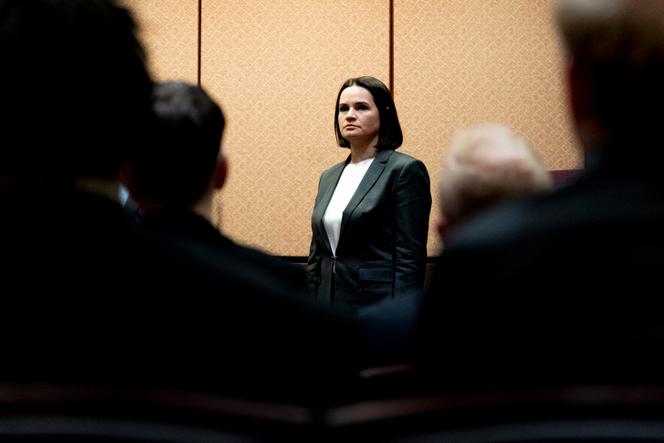 Svetlana Tsikhanovskaya during a press conference on Capitol Hill in Washington on March 22, 2023. STEFANI REYNOLDS/AFP
Arriving at the address given in Vilnius, the Lithuanian capital, you first think you have been mistaken. The ultramodern building houses high-tech and logistics companies, but no plaque indicates the official office of the leader of the Belarusian opposition in exile, Svetlana Tsikhanovskaïa. And for good reason: even here, the former presidential candidate of 2020 is forced to live under high security, in a place kept secret. The border with Belarus is only 35 km away. "It's dangerous, there are a lot of KGB and FSB agents [les services biélorusses et russes de sécurité] in Lithuania, breathes a member of his team. We often receive threats. »
At the entrance to the office, an X-ray portico opens onto a small room adorned with a library, where dozens of medals, gifts and photos of Svetlana Tsikhanovskaïa with heads of state from around the world are enthroned. Le Monde was exceptionally able to have access to the other part of the cabinet, forbidden to visitors. The heart of the Belarusian resistance is here, in these sanitized, half-empty offices, equipped with large glass walls, a small kitchen, and decorated with a few heterogeneous paintings – gifts too. A row of secure turnstiles leads to Svetlana Tsikhanovskaya's office. The leader of the Belarusian democratic forces crosses them several dozen times a day in a gust of wind, badge in hand, face closed, according to her countless meetings.
For more than two and a half years, this 40-year-old former professor with no political appetite, propelled as a candidate in place of her imprisoned husband, has been traveling abroad and high-level contacts in an attempt to oust Alexander Lukashenko from power. The Belarusian leader's fraudulent re-election on August 9, 2020, sparked an unprecedented popular uprising, which was brutally repressed. Considered the real winner of the ballot by the demonstrators, Svetlana Tsikhanovskaïa had to flee with her two children for neighboring Lithuania.
"Guest of the State"
Today, she continues the fight from Vilnius, where the authorities recognize her as a legitimate representative of Belarus and have granted her the status of "guest of the State", which allows her to benefit from special protection. Near the library, slightly yellowed press clippings recall how much the muse of the opposition was at the heart of international attention after the 2020 revolution. Svetlana Tsikhanovskaïa then embodied the sacrificial heroine of this fight for democracy against to the Belarusian dictator, whose election neither the United States nor the European Union (EU) has recognized.
You have 72.17% of this article left to read. The following is for subscribers only.
---
---