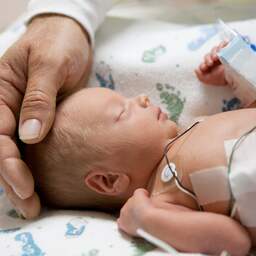 ---
27 Apr 2023 at 08:30
The survival rate of babies with an aggressive form of leukemia can be greatly improved with immunotherapy. The treatment ensures that 93 percent of babies are still alive two years after diagnosis. Without this immunotherapy, that was only 66 percent.
The Princess Máxima Center reports this on the basis of research published in the New England Journal of Medicine on Wednesday. The Utrecht children's cancer center expects immunotherapy with the drug blinatumomab to become the worldwide standard.
This specifically concerns babies with acute lymphoblastic leukemia (ALL), with a certain error in the DNA of the leukemia cells. This concerns three babies per year, whose survival rate is small.
More severe chemotherapy has failed to improve the life expectancy of these babies in recent decades. Within two years, half of the babies had had their cancer come back or died.
It is therefore good news that blinatumomab treatment seems to be working and can be safely given to babies. Immunotherapy with blinatumomab is already being given to some adults and older children with ALL.
'Small study, but clear enough result'
Between 2018 and 2021, thirty children, nine of whom in the Netherlands, received treatment with blinatumomab. They also received chemotherapy. Researchers compared the results with those of 214 children who had only received chemotherapy in the years before.
Of the babies treated with blinatumomab, 18 percent developed cancer again or died within two years. "That also points to a strong improvement," reports the Princess Máxima Center. Previously, it was about half of the babies.
"This was a small study, but with a clear enough result that all babies with this form of leukemia now receive immunotherapy as part of the standard treatment," says pediatric oncologist and clinical pharmacologist Inge van der Sluis of the Princess Máxima Center. She led the investigation.
The researchers want to confirm the effect of blinatumomab in a larger study involving more children, says Van der Sluis. "We also want to see whether babies benefit from two courses of blinatumomab and a reduction in chemotherapy, in order to further improve the quality of life."
---
---