---
Apr 26, 2023 at 5:53 PMUpdate: 4 minutes ago
King Willem-Alexander has been on the throne for exactly ten years this year. To celebrate, he organized a lunch at Huis ten Bosch Palace on Wednesday. A hundred Dutch people were present at the festive gathering called 10 Times, who in the eyes of others deserve a 10. NU.nl spoke to invitee Bryan Vreijsen afterwards.
In February, King Willem-Alexander called on the Dutch to nominate others who are committed to others and make a difference to their environment. He wanted to treat a hundred of those people to a "celebratory lunch".
With a short motivation, the Dutch could nominate someone. One hundred people were selected from the nominees by lottery. They received an invitation to lunch. One of the hundred guests was Bryan Vreijsen.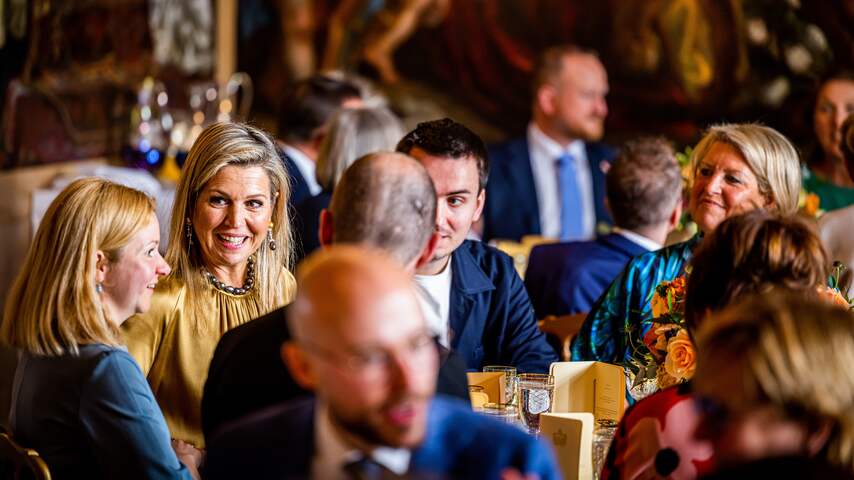 Bryan Vreijsen is sitting on the left side of Queen Máxima. Photo: ANP
'Have spoken to the Queen about the mental health of young people'
Vreijsen calls the lunch "beyond expectations". "I expected lunch and a little chat, but I sat next to Queen Máxima," he says enthusiastically to NU.nl. "We talked about the mental health of young people." Thirty-year-old Vreijsen is the founder of Brabant Maatjes, an initiative that organizes events to bring young people between the ages of 18 and 35 together. Vreijsen came up with the initiative in 2019, because he himself experienced loneliness.
"As honorary chairman of the organization MIND Us, Máxima is committed to a mentally healthy youth. We have that goal in common," says Vreijsen. "She was impressed by my foundation and invited me to send a letter or email to MIND Us. Maybe we can do something for each other."
King Willem-Alexander, Queen Máxima and Princess Beatrix have all changed tables a few times. "I did not speak to the king, but I did shake his hand," says Vreijsen.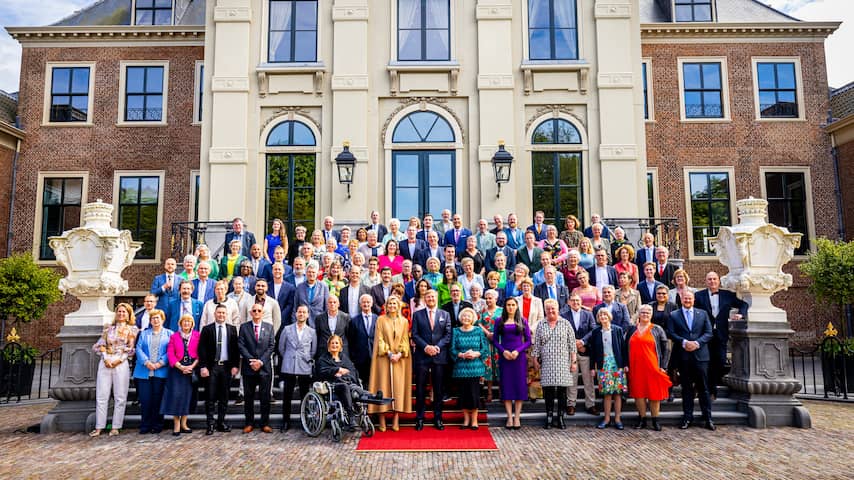 A group photo with the hundred guests. Photo: ANP
'Feel seen now'
"In four days, April 30, I hope to be your king for ten years. And I really can't think of a better way to mark that than by paying homage to you. For you are all working in your own way to make our world a to make it a little more beautiful," said King Willem-Alexander in the speech he gave before lunch.
The lunch consisted of an avocado starter with Dutch shrimp cream and curry madras, the main course of a guinea fowl rouleau with asparagus, spring vegetables and potato rösti and the dessert of passion fruit ice cream and mango sorbet on a soft banana and coconut cake. "Fantastic tasty", says Vreijsen enthusiastically.
The founder of Brabant Maatjes has been nominated by several people to attend the lunch. "By a few friends, but mainly by people who follow me on social media. For a long time I had the feeling that I was not seen. That is different now."
---
---