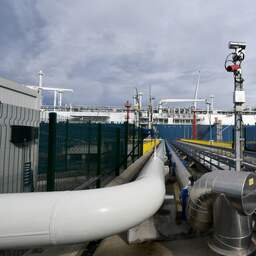 By our economics editors
---
Apr 26, 2023 at 1:20 PMUpdate: 8 minutes ago
Energy prices in the European Union reached record levels in the second half of last year. The average price for electricity rose by more than 20 percent. The gas price increased by 46 percent.
The average electricity price in the EU rose in the last six months of last year from EUR 23.50 to EUR 28.40 per 100 kWh. The average gas price rose from 7.80 euros to 11.40 euros per 100 kWh. This is evident from figures from the European statistics agency Eurostat.
Energy prices rose mainly after the Russian invasion of Ukraine, but have stabilized in recent months. Many EU countries have taken measures to combat price increases, such as lowering taxes and surcharges and setting price ceilings.
Electricity prices rose the fastest in Romania (+112 percent), the Czech Republic (+97 percent), Denmark (+70 percent), Lithuania (+65 percent) and Latvia (+59 percent). In Luxembourg (+3 percent), Austria, Germany (both +4 percent), Poland and Bulgaria (both +5 percent) they increased the least.
Gas prices went up in all 27 EU countries. They rose the fastest in the Czech Republic, Romania, Latvia, Lithuania and Belgium.
---
---