---
Apr 25, 2023 at 08:53 Update: 4 minutes ago
Mexx Meerdink has to let the past two days sink in. The AZ striker participated in half on Sunday evening in the home game of the main force against RKC Waalwijk (3-0). A day later in Switzerland he contributed with two goals to the overall victory of the youth team in the Youth League.
"It was a hectic 24 hours," Meerdink said to AZ TV in the festivities in Geneva. "I have no words for it, it all went so fast. Monday at 8 am I was checked and then I flew here with a private jet."
Meerdink was still in the AFAS Stadium on Sunday at 8 p.m., where the main force played against AZ. The nineteen-year-old striker came in for the injured Jens Odgaard after twenty minutes, but was not unscathed either. Meerdink had to be replaced halfway through with a slight pain in his hip.
On Monday, Meerdink received the final green light to leave for Switzerland. His employability was a big boost for the youth formation of trainer Jan Sierksma. The son of Martijn Meerdink already scored seven times before the final in the Youth League, a tournament for players under the age of nineteen.
In the final against the Croatian Hajduk Split, Meerdink entered the field halfway and immediately left his mark. De Winterswijker provided the assist for Ernest Poku's 3-0 and was responsible for AZ's fourth and fifth goal.
"So you suddenly find yourself in the field in the second half with two goals and an assist to your name. That's fantastic," said a somewhat surprised Meerdink. "If I'm honest, I actually dared to dream of this success. We are one team, one family. We did it together."
Unfortunately, this content cannot be displayed. We do not have permission for the necessary cookies. Accept the cookies to view this content.
Change cookie settings
Owusu-Oduro: 'People probably laughed at our goal'
The talents of AZ had already made the necessary impression in the Youth League in the run-up to the final. The Alkmaarders were, among other things, convincingly too strong for superpowers such as FC Barcelona (0-3) and Real Madrid (4-0).
On Friday, AZ already experienced a first in Switzerland by qualifying for the final after penalties against Sporting CP. Never before has a Dutch club reached the final of the Youth League.
Yet no one at AZ is completely surprised by the success. Keeper Rome-Jayden Owusu-Oduro had also secretly hoped that AZ would succeed in writing history in the prestigious youth tournament.
"A lot of people didn't think this. Our goal was to finish in the last four. Many people may have laughed about that, but we know that our youth academy is very good. We do it as one team, also off the field." said Owusu-Oduro.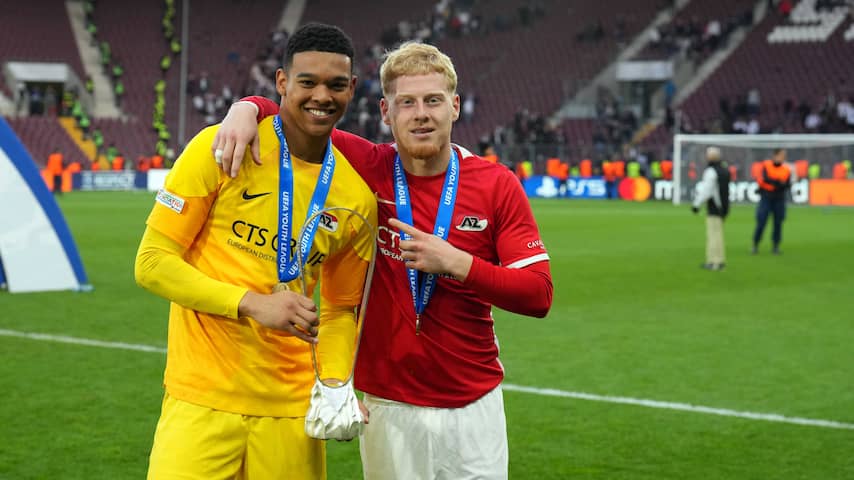 Mexx Meerdink and keeper Rome-Jayden Owusu-Oduro. Photo: ANP
---
---