---
Apr 25, 2023 at 5:49 PMUpdate: 5 minutes ago
Next weekend's Azerbaijan Grand Prix will definitely receive a second qualification. The race in Baku is the first sprint race weekend of the year. For that shorter Saturday race, a separate qualifying session called a sprint shootout takes place earlier in the day.
During the Australian Grand Prix it came to light that there were plans to qualify separately for the sprint race and the main race during sprint race weekends. This plan was finalized on Tuesday, with the approval of all teams.
Friday qualifying now determines the starting grid for Sunday's Grand Prix, while the starting grid for Saturday's sprint race will be determined in a separate qualifying session.
This qualifying session also consists of three parts. The medium bands are compulsory in the first two parts and the soft bands in the final part. The qualifying parts are shorter than those in the regular qualifying on Friday: Q1 lasts twelve minutes in this qualifying, Q2 ten minutes and Q3 eight minutes. After the first two, the five slowest drivers are eliminated.
That second qualifying replaces the second free practice during the sprint race weekend. Since teams are no longer allowed to change the car by then, the usefulness of that session was already questioned. Free practice on Friday is now the only practice on the weekend.
Timetable GP Azerbaijan
Friday 11:30am: First Free PracticeFriday 3:00pm: Feature Race QualifierSaturday 11:30am: Sprint Race QualificationSaturday 3:30pm: Sprint RaceSunday 1:00pm: Feature Race
Six sprint races in 2023
Formula 1 will hold a total of six sprint race weekends in 2023. After Azerbaijan, these are held in Austria, Belgium, Qatar, United States (Austin) and Sao Paulo. The top eight in a sprint race gets points, with the distribution 8-7-6-5-4-3-2-1.
The hope is that the drivers will take more risks in the sprint race if their starting position in the feature race is not at stake. However, grid penalties were immediately considered. Drivers who incur it in free practice or qualifying on Friday must redeem it during the race on Sunday. A grid penalty incurred in the new qualifying session on Saturday will be redeemed in the sprint race on the same day. Grid penalties handed out in the sprint race will affect the starting grid for Sunday's feature race.
It was also decided on Friday that more engine parts may be used in a season. Each driver was allowed to use three combustion engines, turbos, MGU-Hs and MGU-Ks per season. That has been increased to four per season.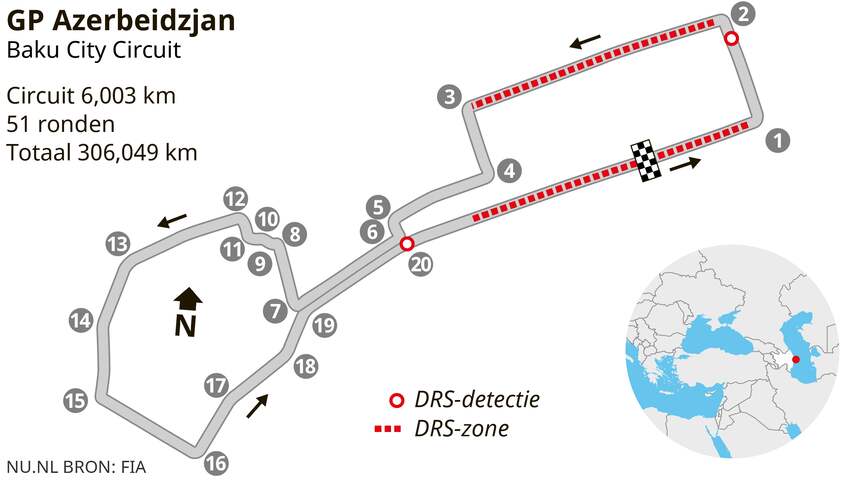 ---
---