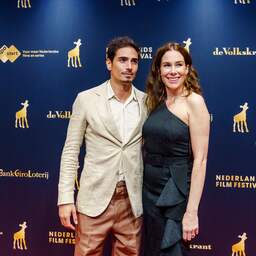 Halina Reijn and former professional football player Daniel de Ridder are no longer together. The two ended their relationship some time ago, the 47-year-old actress and director writes on Instagram.
"Daniel and I want to let you know that we ended our romantic relationship some time ago, and have continued as very dear friends. Here's one last trip down memory lane," Reijn writes with a number of photos of her and De Ridder together.
In May 2017, the actress and filmmaker shared a photo of De Ridder on Instagram for the first time. Reijn has been living in America for some time for her work. As a result, the relationship of Reijn and De Ridder had been looking different for a while, she told the Flair at the time.
"I do feel that I am putting pressure on us, and of course he cannot just move to New York. But Daniel understands very well that I want to go for this and is also very proud," she said at the time.
---
---