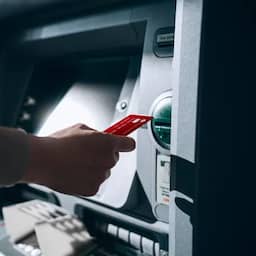 Recently, the American Silicon Valley Bank almost went bankrupt as a result of a 'bank run': account holders wanted to withdraw their money en masse while the bank did not have enough money in cash. But how can a bank be so vulnerable?
This article is from AD. Every day a selection of the best articles from the newspapers and magazines appears on NU.nl. You can read more about that here.
"Banks are actually money distributors," says Professor of Banking and Finance Jaap Bos (Maastricht University). "Savers give their money to the bank, assuming that it will remain safe there. But the bank lends their money to others, such as people who want a loan for a house or a shop, for example. The money itself is therefore gone , but the number on your account statement does not change."
The bank is allowed to lend up to about 97 percent of the money in depositors' accounts. That seems like a lot, but according to economists, that system usually works well. It can become problematic if customers who have borrowed money from the bank are no longer able to repay their loan, for example because there is an economic crisis. This leaves the bank short of cash. If that becomes known, concerned savers may in turn decide to withdraw their money from the bank.
"If people start doing that en masse, we call it a 'bank run'. But because those savings have been lent out, the bank cannot give the savers their money back. And that's how a bank can go bankrupt." says Bos.
DSB Bank
In the past, this happened in the Netherlands, among others, with DSB Bank. According to Bos and other economists, a bank run is the nightmare of everyone in the financial world, including governments: "If customers of other banks start to doubt their bank, you can also get a bank run there. Many people could lose their money." , and that can disrupt the economy or even the whole of society."
To prevent people from withdrawing their money en masse, many rich countries have a system that ensures that the government pays you out if a bank can no longer do so. Bos: "The idea behind such a scheme is that savers will not participate in a bank run, because they trust that they will always get their money back."
That system generally works quite well, but if the situation does get out of hand, the government can choose to bail out the bank itself. Economists call this a bailout: the bank receives money from the government, or is even taken over by the government.
In the end, the Silicon Valley Bank was not saved by a bailout, but was taken over by a competitor. Whether that was enough to completely restore peace in the banking world remains to be seen in the near future.
---
---