Three months after his appointment, John Heitinga (39) awaits a diptych with PSV that is crucial for Ajax's season and possibly also for his future as a trainer. The club icon is on "pole position" to be head coach of the Johan Cruijff ArenA next year, but the question is whether that will still be the case next month. "I hope that emotion does not reign at Ajax."
It was in the hallway near the dressing rooms of the Golsch Veste, on Wednesday evening, February 9, after Ajax's 0-1 victory over FC Twente. Heitinga had just shaken hands with the few journalists waiting for him when he walked on to a family who were also in the hallway.
"Shall I also give you a hand?" Heitinga asked, holding out his hand. Then he turned to the son of about ten years old. "You are probably waiting here for Twente players, but I would also like to take a picture with you", the Ajax coach said with a smile. And while they posed together: "A real Twente fan and an Ajax player. I just like that."
It is typical for Heitinga, especially in his first months as coach of Ajax. He is friendly and approachable. And unlike predecessors Alfred Schreuder and Erik ten Hag, since his appointment he has used every opportunity to say that Ajax is his club.
It is often done with bravura and self-confidence, although he can sometimes be slapped with retroactive effect. "What is Feyenoord's weakness? You will see that on Sunday," he said in the run-up to the 2-3 Lost Classic.
Stand at the top of the Eredivisie
Feyenoord 29-70 (+43) Ajax 29-62 (+50) PSV 29-62 (+43) AZ 29-57 (+24)
'He wanted to take pressure off them'
Little has changed in that regard, says Hedwiges Maduro, who played with Heitinga at Ajax from 2005 to 2007. "In the run-up to top matches against Feyenoord or PSV, John was a player who always emphasized that we had to have confidence in ourselves. Just do what you always do. We had plenty of quality," Maduro recalls.
"He mainly did that against guys who came from outside. And who might have doubts about whether they could handle the level of Ajax. He wanted to reassure them, take the pressure off them."
In those years, as a young man in his twenties, Heitinga was already regularly captain of Ajax. And not only there. At the age of seventeen he already wore the band for the Orange squad at the World Cup for players under the age of 20. And in 2008 at the European Championship, the defender became the youngest ever captain of the Dutch national team at a major tournament.
"He was a leader in the field, without speaking all the time. He chose his moments," says Maduro, who is a year younger than Heitinga at 38 years old. "John was a type that you already said at the time: he can become a trainer. Also because of his position in the field. He had to put it down, had a clear structure in his head. And I now see that as a trainer with him. He knows what he wants to see from his team, even though he has only just started as a coach at this level."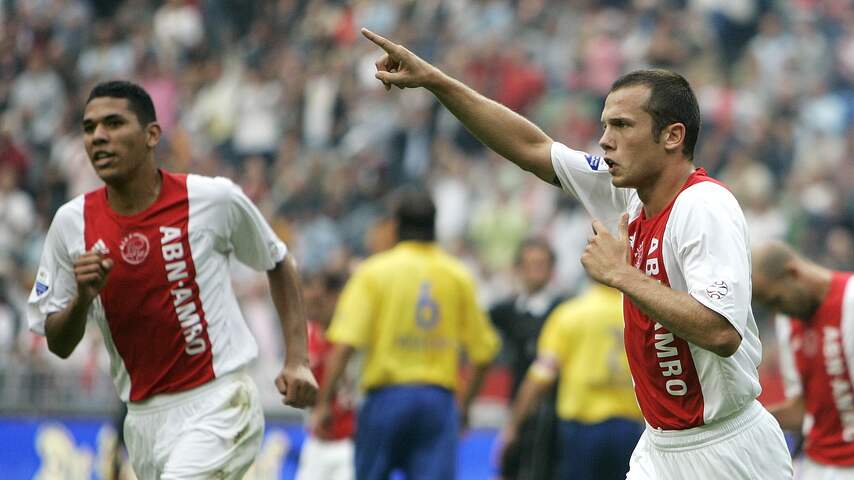 John Heitinga and Hedwiges Maduro as teammates at Ajax in 2006. Photo: ANP
'I immediately had a blast'
After three years as a trainer in the youth and a season and a half at Jong Ajax, Heitinga was supposed to first become an assistant in the main squad, but due to the dismissal of Schreuder, he suddenly became one of the youngest head coaches ever at the club. Ronald Koeman (38) and Jan Wouters (38) also did it this century in their thirties. And in a more distant past, Aad de Mos was even a few years younger when he became the person with final responsibility at the bank in Amsterdam.
"I immediately had a blast, it was bingo," says De Mos, who won the title and the cup with Ajax in his first full season as a trainer in 1983. "As a young trainer you are in the casino, Heitinga is there. now too. He has to hope that it goes well and then he can continue. Especially in the opportunistic media world you are quickly written off. Even Ten Hag was initially said that he could not do anything about it. "
With an average of 2.55 points in a duel, Heitinga is so far the best performing Ajax coach this century in the Eredivisie. On the other hand, the title is out of sight due to the loss in De Classic in the ArenA and the inglorious elimination in Europe by Union Berlin.
"Heitinga gets the most out of this selection", says De Mos. "Arne Slot has received better material from Te Kloese and co at Feyenoord. Ajax has not improved with Conceição, Bassey, Sánchez and Lucca. No one stands out and so Heitinga continues to search and change to arrive at his ideal basic team. you won't find that with this selection."
Maduro: "I see that Heitinga has brought back a certain mentality. Norms, values ​​and clearer rules. And he radiates Ajax. He demands profit and good football. Winning usually succeeds, but in terms of game it is not always clear what Heitinga has in mind. has his head."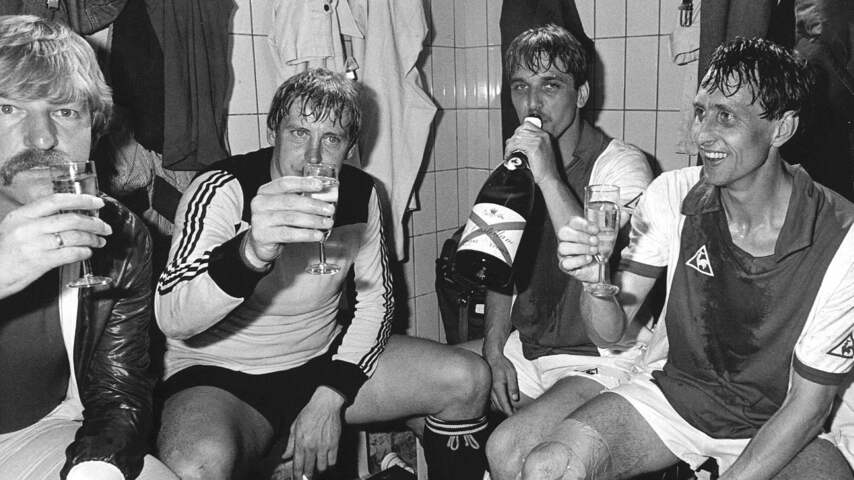 Aad de Mos (left) as a young trainer at Ajax in 1982 with Piet Schrijvers, Edo Ophof and Johan Cruijff.Photo: ANP
'Heitinga has taken a risk'
It is also too early to expect results and good football from Heitinga, says Maduro, who is working on his second season as assistant coach of Almere City FC. "Heitinga took a risk by joining as head coach in the middle of a season. He now works with a group formed by others. And there was no time to hone in on a new playing style."
"On the other hand, I do understand that the temptation is great when the club asks you, even though Heitinga himself may have had a calmer build-up of his coaching career in mind. He is still developing as a coach. And I am very curious "How that development will continue if he remains Ajax trainer. What kind of trainer is he? Is it just the Ajax way or does he also think differently about football? That is a longer process. He also has to discover that a bit himself."
De Mos: "My philosophy is: you have mastered the coaching profession, or you have not. Most former top players have not mastered it, but we know the exceptions. Those are the Guardiola's. And then you still have to judge it over a longer term. Look at Mark van Bommel. That went wrong at PSV and VfL Wolfsburg, but now he seems to be able to become a top trainer at Antwerp. That is the casino of the trainer's profession. So it will take a while before we Heitinga have to judge. Next year he will only be able to work with his own selection if he is allowed to continue."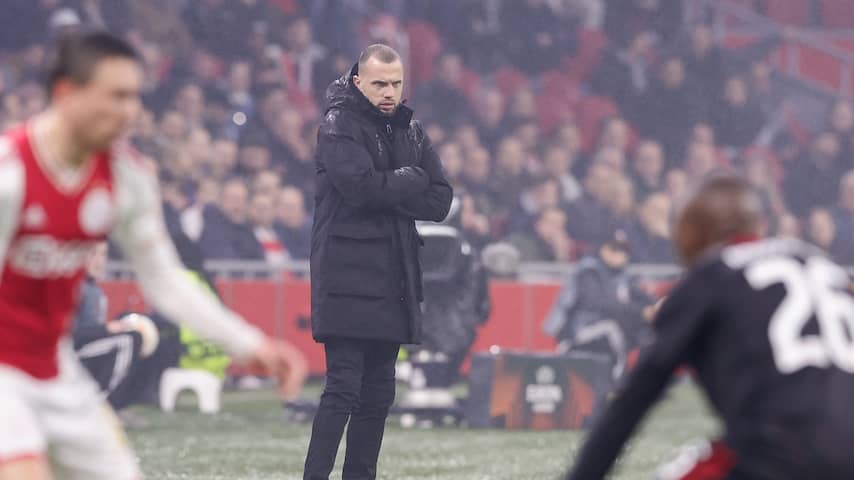 John Heitinga looks on during his European debut as Ajax coach against Union Berlin. Photo: ANP
'Ajax must already be working on next season'
The new director of football affairs Sven Mislintat said earlier this month that Heitinga is in "pole position" to be coach of Ajax next season. On the other hand, the question is whether the German still feels that way if Ajax loses the KNVB cup final to PSV next week and also has to leave second place in the Eredivisie to the people of Eindhoven.
"I hope that emotion does not rule, because then they will link Heitinga's future to the results in the last weeks of the season. That is not a sensible policy," says Maduro, who suspects that internally at Ajax it has already been established that Heitinga is also coach next season.
"They almost have to. You have to be busy with next season now. If you now approach a player to come to Ajax, he will ask the question: who will be the trainer next season? If you cannot answer that, choose that player faster for another club."
De Mos: "On the other hand, Heitinga must carefully consider what he wants. If Ajax does not take the cup and finish third, it is better for him not to continue as head coach. Otherwise, he will start a new career with a negative stamp. season. And the question is whether he will still really feel the support of the directors. But one thing is certain: It will be an exciting end of the season, for Ajax and Heitinga."
Remaining program Ajax
April 23: PSV-Ajax April 30: Ajax PSV (cup final) May 6: AZ-Ajax May 14: FC Groningen-Ajax May 21: Ajax-FC Utrecht May 28: FC Twente-Ajax
---
---