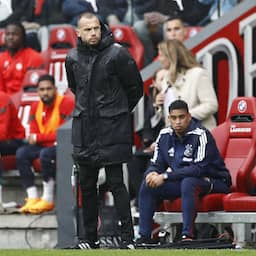 ---
Apr 23, 2023 at 5:30 PMUpdate: 2 minutes ago
Ajax coach John Heitinga was very disappointed on Sunday with the loss of his team in the Eredivisie squatter against PSV (3-0). The team from Amsterdam was behind the facts in the Philips Stadium throughout the match and had to give up second place to PSV due to the defeat.
"A piece of effectiveness made all the difference today," Heitinga said at ESPN. "The first chance goes right in. Then you have to start making the game and you get a few chances, but you don't score. They get a few chances and they do score. We entered the funnel a number of times and they were able to hurt us a number of times. Today PSV just deservedly won."
Halfway through, PSV led 1-0 through a beautiful header from Luuk de Jong in the thirteenth minute. Shortly after the break, the home club struck for the second time through Xavi Simons, who converted a penalty kick in the 54th minute (2-0). After a short break – the match was stopped because a supporter had thrown a cup on the field – De Jong determined the final score in the final phase.
"I thought we were sloppy in the first half, impatient. We dominated in possession, but then we have to convert that into great opportunities. The second half was an open game, but today they were much more effective than us," analyzed Heitinga, who thought his team played into the hands of PSV with the early opening goal
"The pace was therefore reduced and we had to increase that pace again. But today we also have to look at ourselves, then we have to conclude that it was simply insufficient."
Thanks to the victory, PSV has three points more than Ajax and the team of coach Ruud van Nistelrooij is on course for a place in the preliminary round of the Champions League. The reigning national champion from Amsterdam must fear that it will be missing from the ball of millions for the first time since 2018. The last time Ajax finished outside the top two in the Eredivisie was in 2009.
---
---