The Swedish offer on Netflix was expanded this week with One More Time (2023), about a fateful wish of a 40-year-old woman… The brand new, poignant rom-com is not yet able to fully convince viewers and receives mixed reactions.
Useful Netflix pages:
A success or not?
On IMDb, the romantic comedy currently scores just enough, with ratings that vary from an enthusiastic 10 to a disappointed 4. So not everyone is equally convinced of the romantic time travel story from Sweden. Hopefully more positive responses will pour in in the coming days.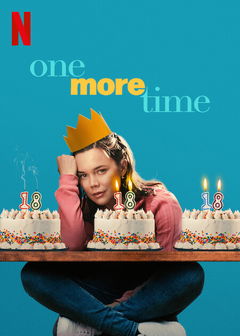 5.5 Watch on Netflix • On her 40th birthday, Amelia makes a fateful wish: she wants to go back to 2002, when she was 18. She soon regrets this, because she has to relive that day over and over again.
Reliving childhood
When 40-year-old Amelia is hit by a truck on her birthday night, she wakes up in 2002, on her 18th birthday. Suddenly she has the chance to relive her best day and turn her life into the perfect image of what she envisioned.
But when she realizes she's trapped in a time loop, destined to relive the same day over and over again, she decides to figure out what she needs to fix to literally leave the past behind and return to the present.
Beeld: Still 'One More Time' via Nea Asphäll / Netflix
---