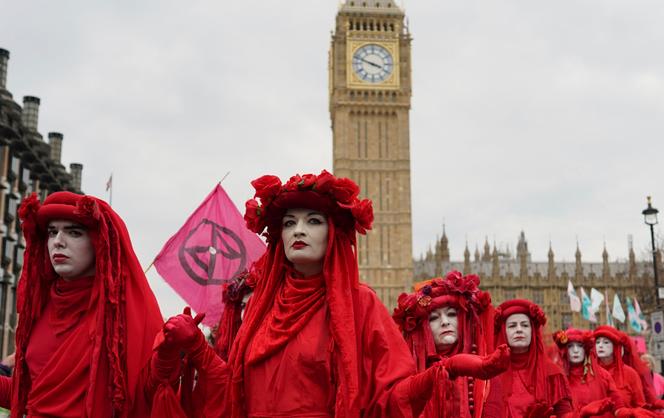 Members of the "Red rebel brigade", climate activists, take part in the Extinction Rebellion demonstration in London, April 22, 2023. STEFAN ROUSSEAU / AP
A painting workshop for children. "Ask a scientist" discussion stands. A Christian group that sings together religious songs. The atmosphere was festive, good-natured and family-friendly on Saturday April 22 for a major demonstration to mobilize against climate change in London.
Several tens of thousands of people (no official figure has been communicated) marched in front of the Parliament of Westminster, an appointment which marked the high point of four days of action. The main organizer was the group Extinction Rebellion, but nearly two hundred other environmental organizations supported it, from Greenpeace to Friends of the Earth, including trade unions, associations for nuclear disarmament and others against pollution of the seas.
This protest marks a complete tactical shift for Extinction Rebellion. Created in 2018, the group became known for its punchy actions: boat placed in the heart of Oxford Circus and blocking traffic, blocked bridges, activists stuck against barriers… On January 1, however, it announced its desire to "temporarily withdraw from public disruption as a primary tactic. (…) This year, we are prioritizing numbers of protesters over arrests, building relationships over blocking the streets." This Saturday's demonstration, dubbed "the big one", was a crucial test.
Read also: Article reserved for our subscribers "Climate activists alone cannot be the saviors of humanity"
"Protests where no one risks being arrested"
"It's satisfying to see all these people," enthused Richard Baxter, who came from Bristol. "Finally, we are all united, numerous, en masse, while our movement is so often divided and full of internal conflicts. Usually, there are those who campaign for air quality, those for water…" He has been a member of Greenpeace for 14 years, but joined Extinction Rebellion when it was created in 2018. "It was new, creative, and there was definitely a sense of climate urgency. »
In 2019, he was one of 1,000 protesters who blocked Oxford Circus by summoning a pink boat. He was arrested, then ordered to reimburse part of the cost of the damage caused. "When I learned of Extinction Rebellion's change in tactics, I was shocked, but I understand the value of having protests where no one is at risk of arrest. »
Read also: Article reserved for our subscribers "For Last Renovation, being arrested is an integral part of the strategy"
This festive atmosphere notably persuaded Julia Harrison to come from Gloucestershire (west of England). It was her very first climatic manifestation, and she was suspicious: "friends who work in law enforcement told me to be careful, that there can always be extremists infiltrating, to be ready to leave quickly if necessary. "Finally, she is delighted with the atmosphere and marches with a cardboard butterfly on her head, carrying a sign" United for nature ".
You have 36.37% of this article left to read. The following is for subscribers only.
---
---