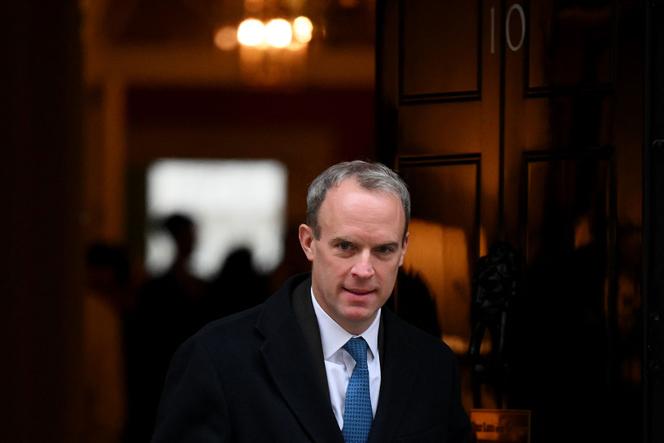 Dominic Raab, British Deputy Prime Minister, leaves 10 Downing Street after the weekly cabinet meeting, in London, January 31, 2023. DANIEL LEAL / AFP
He will have resisted twenty-four hours, but the pressure was too intense. Dominic Raab, Deputy Prime Minister of Rishi Sunak, Minister of Justice and loyal to the British leader, resigned on Friday, April 21, after the delivery to Downing Street, the day before, of a report concerning him pointing to borderline behavior harassment, not of a sexual nature, but of a psychological nature.
This departure weakens Rishi Sunak, a fortnight before municipal elections which promise to be complicated for the Conservatives, and raises questions about his judgment skills. Mr Raab is indeed the third member of his cabinet pushed to leave for his past conduct, after Gavin Williamson, an ex-education minister hated for his intimidating ways, and Nadhim Zahawi, ex-chancellor of the exchequer targeted by a huge tax adjustment.
The independent investigation into the behavior of Mr. Raab, 49, ex-Brexit minister under Theresa May, then foreign minister under Boris Johnson, was launched in November 2022 following the filing of formal complaints – eight in all – by collaborators who denounced its supposed harshness. According to their confidences relayed by the media, Mr. Raab was so brittle that they were afraid to confront him in meetings, others would even have had "suicidal thoughts" because of him.
"Intimidating" and "aggressive" behavior
Without explicitly accusing him of "harassment", a conduct contrary to the British ministerial code, the report written by lawyer Adam Tolley notes "intimidating" and "aggressive" attitudes. Mr. Raab has constantly denounced these allegations, assuring that he had acted "professionally at all times" during his career. His letter of resignation on Friday contains no regrets and asserts, on the contrary, that his departure creates a precedent "dangerous for the conduct of good government".
"Ministers must be able to give their critical opinion to reports provided by collaborators in order to set work requirements and carry out the reforms that the public expects from us," insisted the former minister. In an article in the Daily Telegraph published on Friday, he denounces an investigation carried out in a "Kafkaesque manner".
Read also: United Kingdom: resignation of Deputy Prime Minister Dominic Raab, accused of moral harassment
Very to the right of the Conservative Party, Mr. Raab, was a crucial cog in the Sunak system: he was at his side throughout his campaign to replace Boris Johnson in the summer of 2022, not letting go of him in the last few weeks while t was clear that Mr. Sunak was going to lose to Liz Truss. Mr. Raab was in support again in October, when Liz Truss' tenure ended and Mr. Sunak re-entered the contest, this time successfully. As Deputy Prime Minister, Mr. Raab also replaced Rishi Sunak in the House of Commons when the latter was unavailable, carrying out this task with diligence.
You have 48.78% of this article left to read. The following is for subscribers only.
---
---