Starting today, watch the romantic spy comedy on Apple TV+ Ghosted (2023). Chris 'Captain America' Evans and Ana de Armas star in this action-packed film about a good-natured flower grower who unknowingly falls in love with a CIA spy.
Date leads a double life
The unsuspecting Cole manages to arrange a date with Sadie, but when she stops talking after their first dream encounter, he makes a decision with consequences: he tries to track her down after all. Before he knows it, he finds himself caught up in an international espionage plot, with two inevitable protagonists: CIA spy Sadie and himself.
Action experience
Ghosted is directed by Dexter Fletcher, who made the successful Rocketman (2019) and the credits for Bohemian Rhapsody (2018) shared with Bryan Singer after an eventful production process. Chris Evans is used to the action violence through his Marvel roles, and Ana de Armas also played a spy in the last Bond film.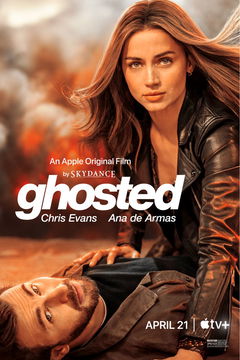 Watch on Apple TV+ • Well-behaved Cole falls head over heels in love with the mysterious Sadie, only to make the shocking discovery that she's a secret agent.
Now on view
This film is available to stream on Apple TV+ starting today. Do you want to see what else the streaming service has to offer? You can do that here.
Beeld: Still 'Ghosted' via Apple TV+
---