---
Apr 21, 2023 at 11:12 PMUpdate: 4 minutes ago
Arsenal narrowly escaped defeat in the Premier League on Friday. The leader saved a point against Southampton for his own audience thanks to two hits in the final phase: 3-3. In France, Paris Saint-Germain won 1-2 at Angers thanks to a wonderful assist from Lionel Messi.
Arsenal got off to a dramatic start to the home game against Southampton, falling behind just twenty seconds after an error by Aaron Ramsdale. The goalkeeper just played the ball into the opponent's feet, after which Carlos Alcaraz took advantage.
After fifteen minutes it was already 0-2 in London. This time, Theo Walcott found the goal against his old club on a pass from Alcaraz. Moments later, Arsenal fought back through Gabriel Martinelli, who scored after preparatory work by Bukayo Saka.
Southampton seemed to deal the final blow halfway through the second half with Duje Caleta-Car's 1-3, who headed in from a corner kick. But in the final phase, Arsenal still saved a point. Martin Ødegaard first scored the tying goal from the edge of the box and shortly afterwards Saka brought the Emirates Stadium into ecstasy with the 3-3.
Arsenal already played a draw in the Premier League for the third time in a row. In recent weeks, 'The Gunners' played a draw at West Ham United (2-2) and Liverpool (2-2).
Due to the mediocre series, Arsenal is only five points ahead of number two Manchester City, which has also played two games less. City and Arsenal will play against each other in Manchester next Wednesday.
View the results, the standings and the program in the Premier League
Brilliant assist Messi in PSG victory
In France, Paris Saint-Germain is well on its way to the national title. Kylian Mbappé scored twice in the 1-2 win against Angers.
The French attacker opened the score in the ninth minute after he first mowed over the ball. Fifteen minutes later, Mbappé was again accurate. This time he rounded off after a beautiful through ball from Messi from his own half. Angers came back in the final phase via Sada Thioub, but the 2-2 was no longer possible.
Thanks to the victory, PSG has an eleven point lead over Olympique Marseille with six matches to go. The number two will visit Olympique Lyonnais on Sunday.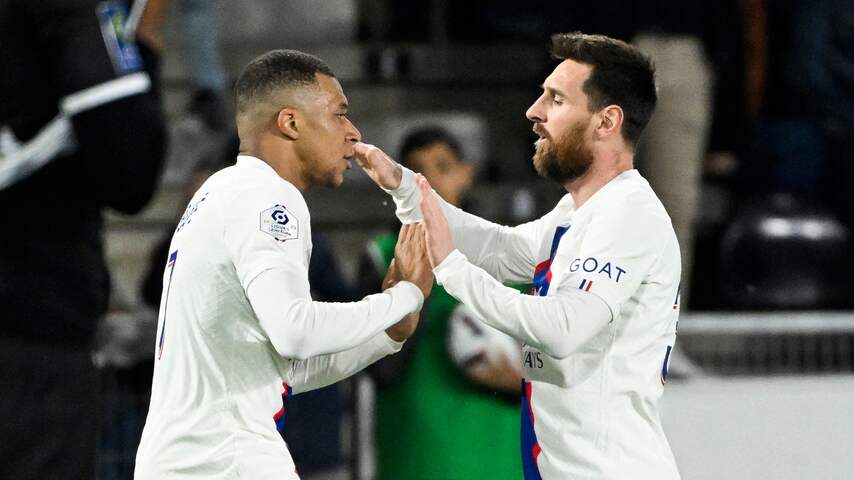 Kylian Mbappé and Lionel Messi celebrate Paris Saint-Germain's 0-2. Photo: AFP
View the results, the standings and the program in Ligue 1
---
---