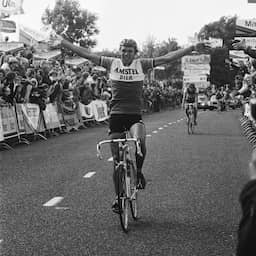 ---
Apr 21, 2023 at 10:39 PMUpdate: 3 hours ago
Former cyclist Jos Lammertink says he has been sexually abused for years in his career. RTV Oost reports this on Friday based on conversations between the 65-year-old Wierdenaar and journalist Gijs Eijsink. The abuse mainly took place in the 1970s.
Lammertink started cycling at the age of fourteen and came under the care of a supervisor. "That ended dramatically," says Eijsink, who wrote down Lammertink's memories half a century later.
Eijsink says that the former rider cannot get the name of the supervisor in question over his tongue. "He said he had to tell me something serious and horrible and now is the right time to throw it out."
"At first glance, the man seemed like an exemplary figure, but behind that facade a dark secret was hidden," Lammertink told the journalist. "He was the man who sexually abused me for many years."
"A major trauma that is now half a century old. It was a very heavy burden all those years. It was hell to keep silent about what happened, because I was so terribly ashamed."
As a professional, Lammertink rode for the cycling teams Panasonic and TVM, among others. Early in his career he won two stages at the Vuelta a España. In 1984 he won the semi-classic Kuurne-Brussels-Kuurne and in 1986 he became Dutch road champion. In 1990 he ended his career.
---
---