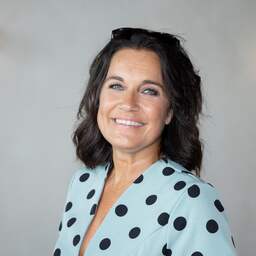 Dione de Graaff replaces Tom Egbers in the upcoming episodes of Other Times Sport. In any case, she can be seen in the six-part summer series that is now being made.
Other Times Sport starts on June 4 with an episode about the bizarre denouement of the Eredivisie season in 2007. The other episodes focus on sprinter Nelli Cooman and cyclist Johnny Hoogerland, among others.
Last month the NOS announced that Egbers will not appear on television for the time being. That decision was taken after de Volkskrant came up with the story that the presenter would have shown misconduct in the workplace at NOS Sport for years.
Egbers shared his side of the story a few weeks back at Khalid & Sophie. The presenter admitted that he has had a years-long affair with a younger female colleague in the past. He added that the two had only kissed.
Employees of the NOS Sport editorial team told de Volkskrant that the woman was bullied and intimidated by the presenter after the affair. Egbers would, among other things, have run his thumb down his throat when the woman walked by. Female colleagues were therefore advised against working with him.
---
---