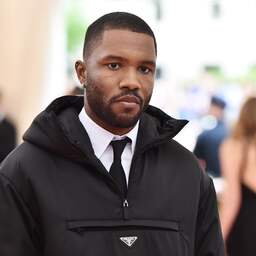 Frank Ocean has canceled his second performance at the American festival Coachella this Sunday. The artist must be absent on doctor's advice, his spokesperson confirms to Variety.
Ocean suffered an injury leading up to his first appearance at Coachella last weekend. According to a statement from his spokesperson, he has two fractures and a sprain in his left leg.
"Ocean was unable to perform the show as intended, but he insisted on going on stage. The show was modified out of necessity within 72 hours," the spokesperson explained.
This modified show came under criticism from Ocean. He started the performance an hour late, which critics said was substandard. Colleague Justin Bieber stood up for the R&B and hip-hop artist. "I was blown away," the singer writes on Instagram. "This performance makes me want to continue and become better as an artist myself."
Ocean, who hasn't released a new album since 2016, announced during his first Coachella performance that new work from him is ready. He didn't sing that live yet.
Ocean will be replaced as headliner by the band blink-182 on Sunday during Coachella's second weekend.
---
---