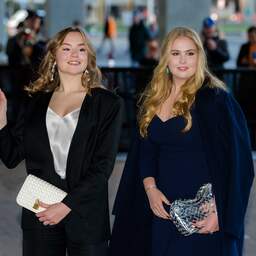 Princess Amalia and Princess Ariane will also be present at the King's Day concert in Rotterdam Ahoy on Wednesday evening. Only the arrival of King Willem-Alexander and Queen Máxima had been announced in advance.
The royal couple and the princesses will be treated to performances by Davina Michelle, Winne, Gerard Cox and the Rotterdam Philharmonic Orchestra on Wednesday in Ahoy.
This year, the festival is open to the public free of charge for the first time. That is because of the ten-year reign of Willem-Alexander. Normally, the King's Day concert is organized in the city where King's Day is celebrated. People who are involved in its organization may then be there. The concert will be broadcast on NPO2 in the evening on King's Day.
Nineteen-year-old Princess Amalia has been appearing in public more and more since she was eighteen. She has already completed her first work trip to the Caribbean Netherlands. Ariane recently turned sixteen and so far only appeared in public during King's Day. Alexia, who is seventeen, currently lives in Wales. There, like her father, she completed her secondary education at United World College.
---
---