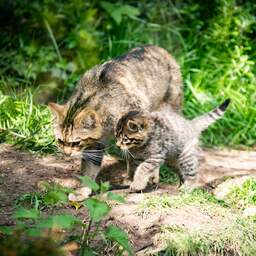 ---
Apr 19, 2023 at 3:01 PMUpdate: 5 minutes ago
A New Zealand competition in which children would hunt wild cats has been cancelled. Animal welfare organizations strongly criticized the event, reports BBC News on Wednesday.
The competition would be part of an annual event in the Canterbury region. Every year, hundreds of children and adults take part in a hunting competition where wild boars, deer and hares are hunted.
Feral cats are a plague in the country. It is estimated that they kill more than a million native birds and tens of millions of non-native birds each year.
That is why the organization decided to let participating children also hunt the cats. They could win a cash prize of 250 New Zealand dollars (about 140 euros).
Animal welfare organizations condemned the contest, which was to take place in June, right after the announcement. The organization behind it received "annoying and inappropriate e-mails," a spokesperson told AFP news agency.
'Could have been a controlled cull'
It is not known who sent the emails. The New Zealand animal welfare organization SPCA is relieved that the "child category where feral cats would be shot" has been canceled. According to the organization, participants cannot distinguish between wild, frightened and domesticated cats.
But not everyone is happy with the cancellation of the cat hunting contest. More than a hundred people defended the event in response to a Facebook post from the organization.
They reasoned that the hunt could have been a "controlled cull." "If only people knew the damage that wild cats do to the neighborhood," said a Canterbury resident.
---
---