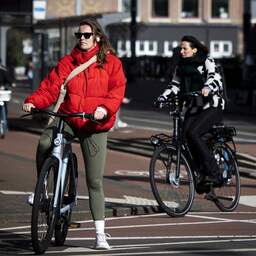 ---
Apr 18, 2023 at 8:31 PMUpdate: 4 hours ago
2022 was a bad year for road safety in the Netherlands. Last year we had the highest number of road deaths in fourteen years and a record number of cyclist crashes. Organizations and experts are calling for safer roads and more information.
"It is important to separate cycle paths from motorways as much as possible," says a spokesperson for Veilig Verkeer Nederland (VVN). "In many places that is not yet the case."
Road safety expert Letty Aarts of the SWOV research institute supports this call. "Try to separate cyclists on roads where you are allowed to go faster than 30 kilometers per hour from car traffic by means of a bicycle path. And if that is not possible, make sure that the speed limit is lowered. Then the chance that a cyclist will collide with a car survives a lot bigger."
VVN also advocates the introduction of 30-kilometre roads at municipal level. "Or look at 80 kilometers of roads that are not properly designed according to the requirements (for example, a verge that is too narrow or trees too close to the road, ed.) And reduce them to 60 kilometers per hour," says the spokesperson. "That saves lives."
Statistics Netherlands figures in a nutshell
Largest number of road deaths in fifteen years: 737Largest number of cyclist deaths since measurements began: 291Number of road deaths increased most among people over 75: 59 percent more than in 2021Total number of road deaths increased: 27 percent more than in 2021
Lowering the saddle a bit can help
In addition, VVN and the police are calling for better information, for example among the elderly. "We provide information on how to stay on your bike as safely as possible," says the spokesperson. "You can already do that by lowering your saddle a bit. Then you stand with your feet flat on the ground if you have to wait for a traffic light, for example."
Furthermore, VVN advocates good safety instructions from suppliers of bicycles, cars and mobility scooters. For example, they can offer a helmet when purchasing a bicycle. Then you also encourage its use, says the spokesperson.
The police especially advocates information about alcohol and drugs in traffic. "We already regularly appeal to governments to focus more on prevention. To point out to people the dangers of driving under the influence, how long narcotics still work in your body," Paul Broer of the National Police told ANP.
SWOV also sees information as a useful addition to other policy, such as regulations and enforcement. But information alone cannot be expected to lead to a drop in the number of victims, Aarts emphasises.
'It makes a lot of difference whether you are hit as a young person or as an older person'
Experts cannot yet say anything with certainty about the causes of the increase; this is still being researched. But they do see trends that have been going on for longer and may play a role.
For example, aging. Because there are more elderly people, the chance of single-vehicle accidents is greater.
"The elderly are more vulnerable," says Aarts of SWOV. "It makes a lot of difference whether you are hit as a young person or as an older person. An older person is more likely to die from it."
VVN also sees the aging population as one of the causes of the increase. "This is, for example, due to a reduction in vital functions in the elderly: hearing, vision or turning the neck. And of course balance problems," explains a spokesperson.
Not afraid to sit behind the wheel with a drink
Trends can also be seen in other age groups. For example, alcohol consumption in traffic has increased in recent years.
SWOV's State of Road Safety, published last year, shows that driving under the influence of alcohol during weekend nights has almost doubled since 2017: from 1.4 percent in 2017 to 2.6 percent in 2022.
An important reason is that many people are not afraid of being caught when they are behind the wheel with a drink. Experts therefore insist that the chance of being caught should be increased.
Also with other forms of risky behavior, such as driving too fast and being distracted by the mobile phone, Aarts sees that things are "not really going in the right direction".
---
---