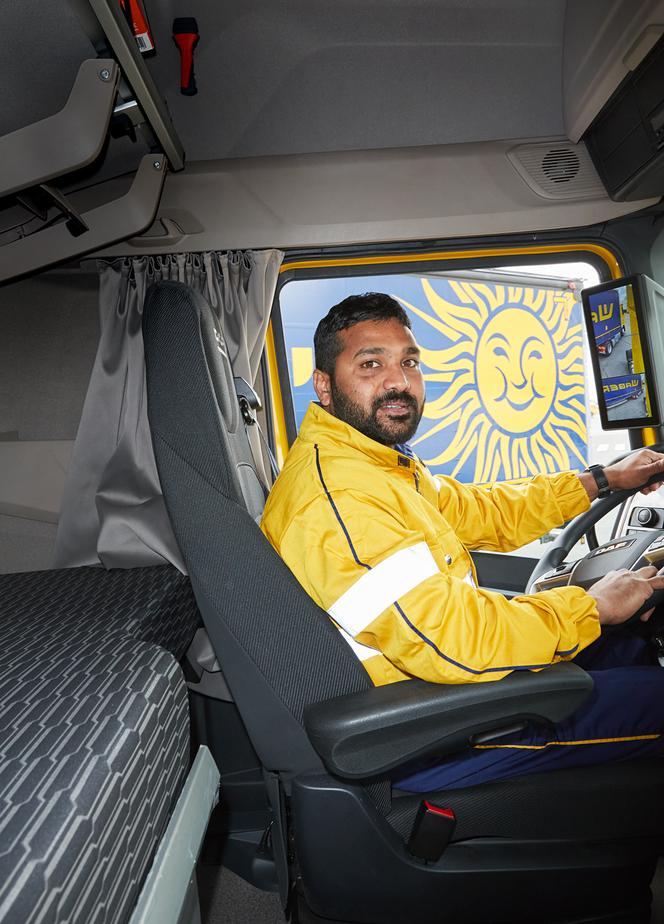 Hasham Shahul (here March 31, 2023), 29, from Cochin, arrived in Budapest in July 2022 to work in a Hungarian transport company. ANDI GÁLDI VINKÓ FOR M LE MAGAZINE DU MONDE
Shibin (who declined to be named), 27, vividly remembers his first driving experience in Paris. "The GPS sent me to a no-truck zone. The police arrested me. I told them, "Sorry, I just arrived from Kerala." They were very nice and told me it didn't matter," he says. Full beard and laughing eyes, this friendly truck driver from this region of south-west India likes to tell the anecdotes of his new life, which began in September 2022, when he left Thrissur, a city of 300,000 inhabitants. , to come and work in Hegyeshalom, a charmless Hungarian town planted along the Vienna-Budapest highway, on the Austrian border.
"I really like Europe: in India, I earned 77,000 rupees [environ 860 euros] per month, here it is 200,000 [2 240 euros] ", assures Shibin, recruited by the Hungarian subsidiary of the German transport giant Duvenbeck. After two months of training in Hungary, where he notably learned right-hand drive (Indians drive on the left) and European traffic signs, he set off on the roads of Europe in December 2022. "France, Country -Bas, Spain, we do 30,000 kilometers a month, "he says, visibly happy.
Only bad experience: "The cold. In Germany, I had to unload my truck at -14°C this winter. He still shivers. "The hardest part is learning to drive on snow," confirms Hasham Shahul, the friend who introduced him to this Hungarian opportunity. Coming from Cochin, this 29-year-old driver was, in July 2022, one of the very first to set foot on Hungarian territory, on behalf of Waberer's, the country's largest carrier.
"Guest workers"
Shibin and Hasham Shahul are the perfect example of a booming practice in European transport: the recruitment of Indian drivers with a Hungarian residence card. Long known as a staunch opponent of all forms of immigration, Viktor Orban has in fact begun to open the doors of his country in recent months to what he calls "guest workers", arguing the lack of -increasingly obvious in Hungarian companies.
"In India, nobody follows the rules and sometimes you have to drive two or three days in a row. »Sanath Somanna Konganda, driver
"Within a year or two, Hungary will need 500,000 new workers", declared the nationalist Prime Minister on March 9, referring for the first time publicly to the need to "bring in foreign workers". . However, he clarified that they "can only stay for a fixed period", in order to avoid what he called "the trap in which Western Europe finds itself", with its immigrants "undermining our culture ".
You have 52.74% of this article left to read. The following is for subscribers only.
---
---