---
17 Apr 2023 at 06:39
Demi Vollering and Lotte Kopecky form an almost unbeatable duo in the great cycling classics this season. The SD Worx teammates also dominated the Amstel Gold Race on Sunday and finished first and second.
Vollering has barely finished five seconds in Berg en Terblijt when she already looks back. She immediately looks for the woman with whom she wants to celebrate her victory in the Amstel Gold first. As soon as Kopecky arrives at the Dutch winner's house, a warm embrace follows. "I love you," says Vollering to her Belgian teammate.
The contrast with the scene after Strade Bianche at the beginning of March is stark. Then Vollering was also first and Kopecky second, but after the finish there was a less than loving atmosphere. Vollering was surprised that her teammate had sprinted for the win in Siena, while she had come first on the Via Santa Caterina, the steep final climb. "I know you're a killer, but couldn't we celebrate together?" Vollering asked Kopecky.
In the interviews after the Italian clay-court classic, the teammates emphasized that the initial emotions had been responsible for the chill. And that the two actually get along very well.
This month, Vollering and Kopecky underlined those words by working together in two even more important classics, with great success as a result. Kopecky won the Tour of Flanders in his own country two weeks ago, while Vollering finished second. On Sunday the roles were reversed in the Amstel Gold Race.
"Lotte is extremely important to me," says Vollering at her press conference in South Limburg. "She can read the race very well, can tell me what will happen. I always feel very safe when we race together. Sometimes it goes that you are very good with someone. Lotte is that person for me."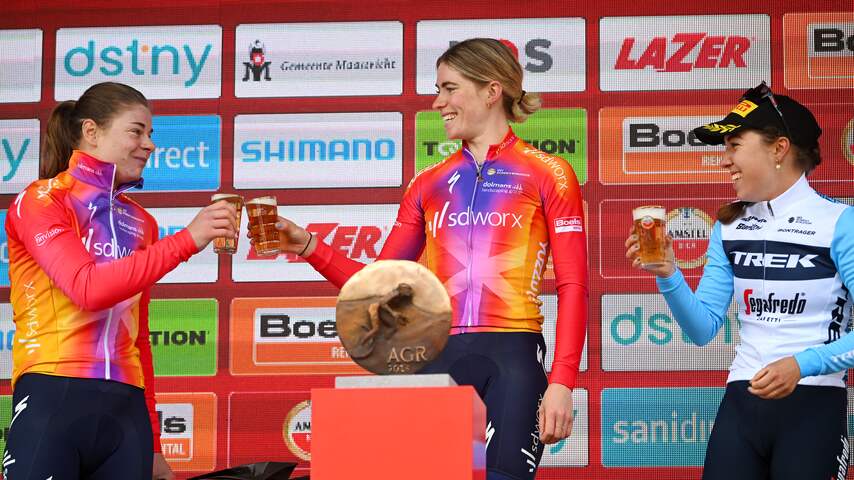 Demi Vollering (center) cheers with Lotte Kopecky (left). Photo: Getty Images
Vollering and Kopecky's plan works perfectly
Vollering and Kopecky do not feel the need to have long conversations during a race. "Usually we ride next to each other a few times and then we ask each other: 'Are you feeling well?'" says Vollering with a smile. "If the answer is 'yes', then we know enough."
In the Amstel Gold Race the answer was 'yes'. And so SD Worx stuck to the plan that had been drawn up in advance. Vollering had to make an attack at the last passage of the Cauberg. If that attack failed, the Dutch team always had Kopecky on hand for the sprint.
"The plan worked perfectly again today," says Kopecky. "Demi attacked at the right time on the Cauberg. At that moment it was very nice for her to know that I was also in the first group. Demi was very keen to win in her own country. And in this way we have the victories nicely divided."
Vollering: "Last season I missed a teammate in some races with whom I could play that game. In 2021 I had Anna van der Breggen, but she stopped after that year. Lotte is doing great this season. We trust each other completely and that it's very nice."
Vollering won the most important classic in the Netherlands for the first time due to the good team play, after finishing second in the previous two editions. "It is not normal again how Demi and Lotte did this," says teammate Lorena Wiebes with a smile. "They are a top duo, but I think we are all a top team together. It's great to race like this."
Top 5 Amstel Gold Race women
Demi Vollering (Netherlands) – 4.06.54 Lotte Kopecky (Belgium) +0.08 Shirin van Anrooij (Netherlands) +0.08 Katarzyna Niewiadoma (Poland) +0.08 Soraya Paladin (Italy) +0.08
---
---