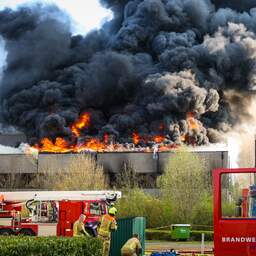 ---
Apr 17, 2023 at 9:23 PMUpdate: 4 minutes ago
A second NL-Alert was sent on Monday evening due to a major fire in an empty building on Boerhaavelaan in Zoetermeer. Two hours after the first message, a lot of smoke is still being released. Residents are advised to stay indoors and to keep windows and doors closed.
Flames spread out at the back of the building. As a result, smoke development is increasing, the fire service reports. It is dangerous to get close to the building, which means that the fire brigade has to extinguish the fire from a relatively great distance.
The fire in the building started around 2:40 p.m. Monday. Two people had to be rescued from the roof. They were taken to hospital for a check-up. The cause of the fire is not yet known.
Boerhaavelaan and the parallel Afrikaweg are closed in both directions because of the smoke and to give emergency services room. Due to the fire, a lot of smoke is moving over the A12 near Zoetermeer, in the direction of Pijnacker. Traffic is not much affected by this, reports Rijkswaterstaat.
The fire brigade receives several calls from worried residents of Delft and Pijnacker. But there is no reason to stop sports and other outdoor activities.
The fire department has investigated the fire particles. No dangerous concentrations were found and there are no suspicions of asbestos. "There may be a smell nuisance," says the fire service.
Unfortunately, this content cannot be displayed. We do not have permission for the necessary cookies. Accept the cookies to view this content.
Change cookie settings
---
---