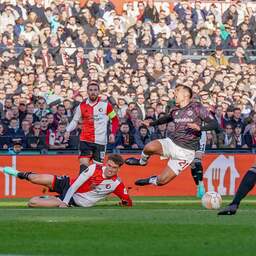 ---
17 Apr 2023 at 08:36
José Mourinho is hopeful that Paulo Dybala will be fit enough for AS Roma's return against Feyenoord in the quarter-finals of the Europa League on Thursday. The attacker was injured in the first meeting in De Kuip.
"I'm more positive than negative. But it's still a maybe," Mourinho said on Sunday after AS Roma's 3-0 win over Udinese in Serie A. Dybala was logically not yet part of the match selection.
In the first leg against Feyenoord, Dybala had to be replaced after 26 minutes, but his muscle injury turned out to be less serious than expected. The Argentinian is one of AS Roma's most important players this season. He has scored fifteen times so far and provided eight assists.
Against Udinese, AS Roma remained clear without Dybala, even though Bryan Cristante missed a penalty kick in the first half. It was striking that captain Lorenzo Pellegrini, who failed from 11 meters in the game with Feyenoord, did not stand behind the ball against Udinese. Mourinho had spoken to him about this before the game.
"I thought he didn't need that extra pressure," said the Portuguese coach. "I told him: if a penalty comes at 2-0, it's yours. If a decisive penalty comes, it's not yours. He played great today. That there are some nasty comments on social media after Feyenoord placed about him, is just the world today."
The return between AS Roma and Feyenoord starts on Thursday at 9 p.m. in Stadio Olimpico. The team from Rotterdam won 1-0 in De Kuip last week thanks to a goal from Mats Wieffer.
---
---