With a contract until the end of 2028, Max Verstappen's future in Formula 1 is guaranteed for the time being. But what does the reigning world champion do afterwards? He repeatedly alluded to a departure from the royal class. NU.nl is working with two experts to find out how realistic that is.
"This is what we do it all for, right? You dream of this as a child," says Verstappen cynically when he is working on a photo shoot for a clothing sponsor. The fragment can be seen in Viaplay's new documentary Max Verstappen – Anatomy of a Champion.
Later in the docuseries, the Limburger says that he is counting down the years until he can leave Formula 1. "I regularly say to myself: hold on for a few more years, hold on for a few more years."
Father Jos also sees that his son is regularly reluctant in the paddock. "He has to do a lot of things that he doesn't like at all. He would rather just be busy racing."
First the numbers. Should Verstappen drive his last Formula 1 season in 2028, he will have been active at the highest level for fourteen seasons. With the average calendar length, the Dutchman then comes to roughly 290 Grands Prix, with probably more than two world titles in his pocket and almost certainly more than his current number of 37 victories.
That is a CV with which a Formula 1 pension is more than justified. Still, the shoe pinches: Verstappen is then 'only' 31. A fairly early age to leave the royal class.
Current Formula 1 CV Max Verstappen
Seasons: 9Grands Prix: 166Victory: 37World Titles: 2Podiums: 2
'It remains the coolest job in the world'
Formula 1 analyst Tom Coronel understands Verstappen. "I can understand very well that he thinks the peripheral matters suck," says the touring car driver. "It's aimless to him. It's not what he gets a kick out of. You should know that this kid has been preparing for the last twenty years to achieve just one goal. That takes a lot more out of your life than people think. "
Former Formula 1 test driver Ho-Pin Tung has his doubts. "It is very double to talk about reasons to quit, because of course it remains the coolest job in the world. Let's be clear about that."
Tung can nevertheless imagine that Verstappen finds the peripheral matters annoying. "I think people should not underestimate that it is absolute top sport. Not only in the car, but also next to it. That documentary clearly shows that he is constantly being pulled from all sides."
Verstappen talking to reporters. Photo: Getty Images
Three thousand times the same question
Drivers receive a schedule from the team per weekend that must be completed. It contains – in addition to the driving itself – all things that have to do with racing. So mainly meetings with the engineers to make the car faster.
The remaining gaps will be filled with mandatory media meetings, among other things. For example, a driver must appear in front of the camera several times a weekend at all television rights holders, talk to the written press and appear in the press conference on Thursday every other race.
Moreover, Verstappen almost always finishes in the top three, so that he is also at the press conference after qualifying and the race. He usually fulfills these obligations professionally, but also shows that it is not his favorite part. "You also get the same question three thousand times," Coronel is understanding. "You can actually play a tape. I understand that you're done with that once."
In addition, there are sponsor meetings on the schedule, which take place regularly when the work on the track is already done. "Are all those media obligations and sponsor meetings fun to do? No, I can come up with something more fun," Tung judges.
"You would rather play football with your friends on the beach than promote a tube of toothpaste, so to speak. But that makes the coolest job in the world possible. So it goes hand in hand. You have to find a balance in that. Verstappen is therefore especially pronounced about the number of races per year. As a result, those obligations automatically increase. It is getting more and more."
Less pressure and more fun
Verstappen was critical in Australia of the plan to adjust the six sprint race weekends of 2023, with an extra Saturday qualifying and one less free practice. According to the Red Bull driver, it affects his choice whether or not to continue after 2028. Earlier he hinted that he wanted to drive in other branches of motorsport. He particularly likes the long-distance races. "It's less busy and more fun," Verstappen said last summer.
"I'm sure the 24 Hours of Le Mans is on his bucket list," says Coronel. "The Australian Bathurst is also on it, Sebring in America. Those are races that every racing driver wants to have driven."
Tung, himself winner of the 24 hours of Le Mans in the LMP2 class in 2017, sees that Verstappen mainly tries other classes when virtual racing on his simulator at home. "He will not drive Formula 1, but the virtual 24 hours of Le Mans or Daytona, in all kinds of cars."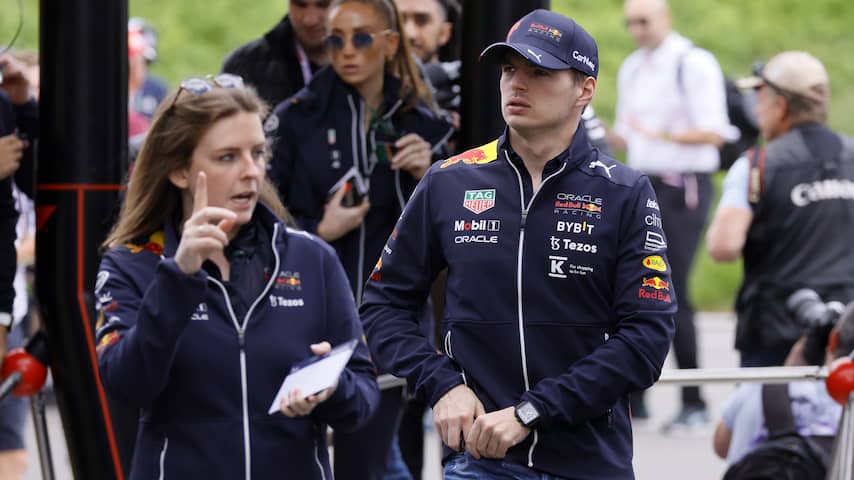 Verstappen is guided through his schedule at the circuits by Red Bull press officer Gemma Lusty. Photo: Getty Images
Sacrifice a lot for success
The calendars of these racing classes are much shorter. In addition, there are fewer obligations and less attention. Drivers in this branch of motorsport are much more often at home. "While as a Formula 1 driver you are away from home for half a year just for the races. You have to sacrifice a lot for it. I have also done that in my career," explains Tung.
"I stopped studying at the time, and you see friends and family much less. You also heard Verstappen's mother say in that documentary that she was happy to see Max again."
Coronel can therefore well imagine that Verstappen wants a quieter schedule after 2028. "People often make a big mistake with that. It's too easy to comment on how to become a very good racing driver, and what you have to leave for it.
"That's why I always have emotion; I know how difficult it is," continues Coronel. "I know what I have to do for it myself, and so I also know what they all had to do for it. It is really a gypsy life. It is not a luxury. People think that, but that is not true at all."
Previous early-retiring champions
James Hunt retired in 1979 aged 31Nico Rosberg retired in 2016 aged 31Mika Hakkinen retired in 2001 aged 33Jacky Stewart retired in 1973 aged 34
'Winning keeps winning'
So the question is how long Verstappen can keep that up. 2028 is still a long way off and it is by no means a foregone conclusion that the Limburger will then look elsewhere. "Maybe I'm involved in a nice title fight, then it would be stupid to stop," he said about it.
"Moreover, there will be new rules and engines in 2026. That can give an impulse," thinks Tung, who does not expect Verstappen to even get tired of winning races. Not even if that happens more and more in a dominant way. "Winning keeps winning. Only when you no longer wonder what could be done better after a victory, you should start doubting your motivation."
Coronel is back on Verstappen's bucket list. Although the two-time world champion himself has said several times that he does not want to drive for a team other than Red Bull, he sees another challenge. "In the end, every driver wants to wear that red suit once. Ferrari remains very special. If you manage to do that, your career is not only successful: you have succeeded."
---
---