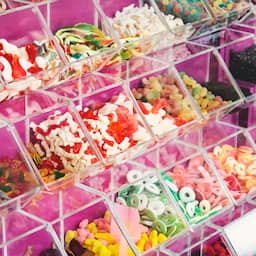 ---
17 Apr 2023 at 05:09
Due to scarcity and trade restrictions, sugar is now the most expensive in years. This has an effect on the prices of sweets and biscuits in the store. But we don't leave sweets behind. Is this proof that a sugar tax won't work?
Market prices for sugar have risen to almost 22 cents per pound, the highest price since 2012. This is mainly due to export restrictions in India and poor harvests in Thailand, China and Mexico.
Sugar, like glucose syrup, which is often used for soft candies, has become twice as expensive for manufacturers in a year. That says Theo Heere of VBZ, the trade association for biscuits, sweets, chocolate, snacks and nuts. As a result, prices of biscuits and sweets will rise by 20 to 40 percent.
"Sweets and biscuits in particular are becoming more expensive. The effect is smaller with chocolate, which contains slightly less sugar," says Heere. According to him, this is no reason to switch to sugar substitutes. "That is more expensive, often not legally permitted and not always technically possible."
Supermarkets are also noticing that everything containing sugar is becoming more expensive due to the sugar scarcity and higher prices for sugar, the Central Bureau of Food Trade (CBL) said. According to the trade association, there is more demand than supply.
'More expensive sugar is a disguised tax'
Heere states that the higher sugar price shows that a sugar tax to be introduced will have little effect. He points to the government's plan for a broad sugar tax. It should make everything with sugar in the store extra expensive.
In 2024 there will be a 'lemonade tax' to make sugary soft drinks more expensive. This recently generated a lot of discussion because oat milk also falls under this.
It will not necessarily make us behave healthier, thinks Heere. Whether it's an extra tax or higher prices for sugar. "In recent years, it turned out that despite high inflation, consumers did not buy less sweets and biscuits. We did, for example, opt for our own brand to save costs. We do not buy less, because the need remains."
Tax does not encourage healthier behavior
With higher taxes you cannot easily influence consumer behavior, while they sometimes cost a lot of effort or money. The Central Planning Bureau already concluded this at the end of March.
Heere and also the supermarket industry point to the main conclusion of the report: "A tax instrument is not intended to change behavior."
It also recently emerged that scrapping VAT on fruit and vegetables would not be effective in encouraging healthy behaviour. Research agency SEO concluded that people will only buy a limited amount of extra fruit if it becomes 9 percent cheaper.
'Explain to children what endive is'
The producers of biscuits and sweets say they support policies for healthier behaviour, but not through a higher tax.
"Stimulate smaller portions. But also look at mandatory sports at school, bring back school gardens, teach children how to cook and explain what endive is, for example. We think it works better to tempt people to do the right thing than people's moment of happiness more expensive to make."
---
---