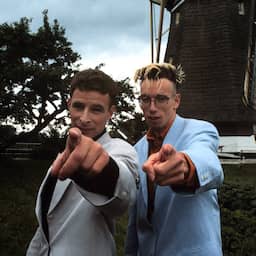 Comedians Hans Sibbel and Dolf Jansen, better known as the duo Lebbis & Jansen, are going to make a New Year's Eve conference together for the first time in seventeen years.
The two announced the news on Monday evening in RTL talk show Beau. It will be the first time since 2006 that the two men will return to the theaters together with a performance.
The 2023 New Year's Eve conference will be entitled SUBLIEM. The first try-outs will take place in June. From September, the men will perform throughout the country for four months. They will play the show in eighty theaters.
"We have now both played together for over seventeen years, then both solo for seventeen years," says Jansen. "It felt good to start making something together again." Sibbel calls the reunion with his old buddy "as if you used to be in a top team, and after a long time in the old line-up you can play a match again".
Lebbis and Jansen performed together between 1988 and 2006 and made a New Year's Eve performance every year during that period. Since then, the two men have each successfully pursued solo careers.
In 2011, the two performed together once again on stage during Lowlands. In December 2021 they made a short conference for theater De Kleine Komedie in Amsterdam. They then received a Silver Window as a tribute.
---
---