---
16 Apr 2023 at 05:08
Drag queen Ma'MaQueen has been reading to children at special events for years. Last week she suddenly became the subject of a fuss and a demonstration. The reading afternoons in a theater in Rotterdam are said to sexualize children. "There is nothing sexual about what I do there," says Ma'MaQueen in conversation with NU.nl.
A small-scale reading afternoon with two drag queens is planned for Sunday afternoon in a Rotterdam theater. That has now become the location of a demonstration and a counter-demonstration.
Stichting De Roze Leeuw (according to its website for "ordinary, down-to-earth homosexuals") started a petition and demonstration. The reading afternoons would not be as innocent as they seem. According to the foundation, such events contribute to the "sexualization of children". The youth section of Forum for Democracy soon joined the demonstration.
It resulted in tough weeks for Ma'MaQueen, who organizes the reading afternoon together with another drag queen. "I'm broken," says the artist. "I keep my back straight and my head up, but it does hit me. The passion I have for what I do has turned into a fighting spirit, and that's a different feeling."
Negative reactions and threats pour in
After the fuss about the reading afternoon, Ma'MaQueen chose to visibly represent her community. She does this, among other things, by speaking to as many media as possible. Partly because of that attention, negative reactions and even threats pour in.
Ma'MaQueen emphasizes that the reading afternoon is nothing new. She has been reading to children on a regular basis for several years. And no one had ever made a problem of that. "Now I'm suddenly called a pedophile and people are shouting that I should be tied behind a car." The drag queen has not yet filed a report, but is considering it.
"We mainly wanted to offer a counterpoint to the bills in the United States that should ban drag queens from the public space. It had to be a celebration of drag as an art form in which everyone is welcome. That has been completely taken out of context and because of that misinformation we get a lot of hate."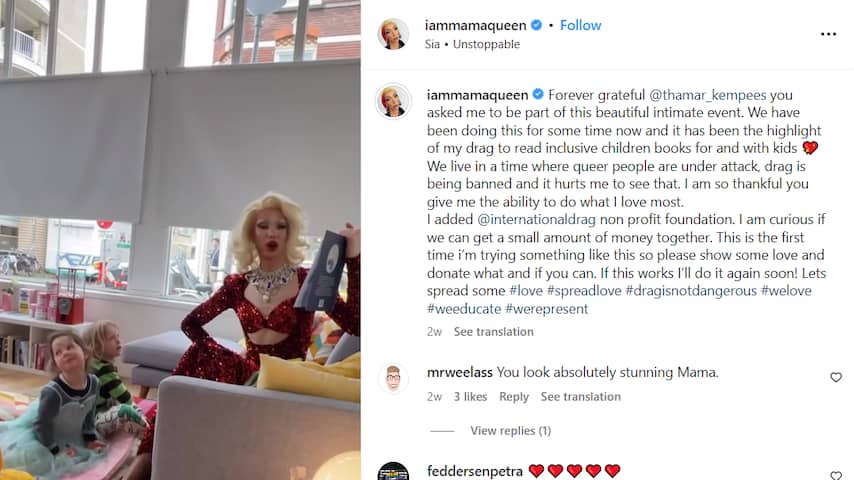 Ma'MaQueen during an earlier reading moment with children. (Photo: Instagram Ma'MaQueen)
'Sexual performances save drag queens for the nightclubs'
The biggest misconception, according to Ma'MaQueen, is that there is anything sexual about the reading afternoon. She explains that the drag queens simply read children's books to children (and parents) who like it.
In doing so, they pay attention to inclusive children's books. Not only in terms of gender or orientation, but also for children with disabilities, for example.
"Those kids just enjoy being read to by someone in a glittery dress. And they are curious about how I do my hair and like my necklace. They are not at all concerned with gender constructions. One child likes football, another child enjoys reading more.
"This really has nothing to do with sex. Of course there are also drag queens who do give sexually tinted performances, but they save that for the nightclubs. And children are certainly not allowed there."
"As long as the children are not in danger"
The fact that the opposition comes from De Roze Leeuw makes no difference to Ma'MaQueen. The foundation is a branch of the LGBTQ+ community. Although that branch prefers to speak of the LGBT community, so only people who are homosexual, lesbian or bisexual.
"I understand where it comes from, but I don't understand it," says the artist. "Polarization does not only happen between heterosexual and homosexual, but also, for example, De Roze Leeuw against outspoken queer people. De Roze Leeuw thinks that discrimination against our community is partly due to how other queer people express themselves."
In any case, Ma'MaQueen does not want to answer hate with hate. "That's not who I am, not as a person and not as a drag queen. My message is love and inclusiveness. That also means that people who don't support me should have room for their opinion. I hope that I will eventually get that space back. "
Now she just reads to children on Sunday while there is a demonstration outside. The threats and hate mail have not bothered Ma'MaQueen. "It is frightening. Fortunately, the demonstrators also care about the safety of the children. So as long as they are not in danger, it will continue. The children are also looking forward to it, I do not want to disappoint them."
---
---